Volunteers welcome at National Public Lands Day projects at Boulder Reservoir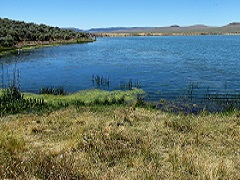 The Bureau of Land Management will welcome volunteers to help improve two high desert campgrounds in northwest Nevada, in a National Public Lands Day observance, Saturday, Sept. 28.
Volunteers will work in teams to tackle projects at Boulder Reservoir Campground and Divine Springs Campground, both popular locations for campers and anglers who like to be "off the beaten path."
"We have a variety of projects for people of all ability levels," said Craig Drake, manager of the BLM's Applegate Field Office. "These National Public Lands Day projects are a great way to connect with the public lands while providing some public service."
Projects will include painting and anchoring picnic tables, installing new fire rings, repairing fences, refurbishing an information kiosk and general campground cleanup.
Volunteers will meet at 10 a.m. at the Boulder Reservoir Campground and then divide into teams to work at Boulder Reservoir and nearby Divine Springs. The BLM will provide tools and materials.
To get to Boulder Reservoir from Cedarville take California State Route 299 east to the Nevada border, where the road becomes Nevada Route 8A, and continue 10.5 miles to the junction with Nevada Highway 34, and turn right. Continue 13.5 miles to the signpost for Boulder Reservoir, turn right and continue eight miles to the campground. From Gerlach, Nevada, take Nevada State Highway 34 north for 68 miles, turn left at the sign for Boulder Reservoir and continue eight miles to the campground.
Roads to the campground are gravel surface. Drivers should be sure that tires are in good condition. It is important to carry a spare tire and tire changing tools.
More information is available from Greg Handa at the BLM Applegate Field Office, 530-233-7923.
 
---
The BLM manages more than 245 million acres of public land located primarily in 12 western states, including Alaska, on behalf of the American people. The BLM also administers 700 million acres of sub-surface mineral estate throughout the nation. Our mission is to sustain the health, diversity, and productivity of America's public lands for the use and enjoyment of present and future generations.
Organization
Bureau of Land Management
Office
Northern California District Office
Contacts
Related Content