Saddle-trained wild horses available for adoption via Zoom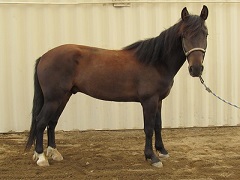 ELK GROVE, Calif., -- Eight saddle-trained wild horses will be available for adoption, Thursday, Nov. 19, in a virtual competitive-bid event starting at 6 p.m. Pacific Time via Zoom. The animals are offered by the Bureau of Land Management in coordination with the Sacramento County Sheriff's Department.
The wild horses available for adoption were trained by inmates in the Rio Cosumnes Correctional Center wild horse training program in Elk Grove. The training program, established in 2013, provides opportunities for participating inmates to gain valuable professional and life skills while training wild horses for placement into good, private homes. The wild horses were gathered from overpopulated herds on western ranges as part of BLM's mission to manage healthy horses on healthy public lands.
"This is a great opportunity to bring home a saddle-trained wild horse with a solid training foundation, thanks to our important partnership with the Sacramento County Sheriff's Department," said Karen Mouritsen, state director for the BLM in California. "These horses are ready to continue their training and to become valued members of horse-loving families."
Prospective adopters must complete a BLM adoption application and have a BLM-issued bidder number to participate. To receive a bidder number, prospective adopters should download an application from BLM's website, complete it electronically, and send by email to BLM California Wild Horse and Burro Program Manager Amy Dumas at adumas@blm.gov. The deadline to apply for a bidder number is Wednesday, Nov. 18, at 4 p.m. Adopters must meet the BLM's adopter qualifications and provide facilities that meet BLM requirements. Details can be found at BLM.gov/whb.
Anyone interested can view the horses and get more information about each animal and the training program at www.blm.gov/cawildhorseadoption. Adopted wild horses must be picked up from the R3C training facility in Elk Grove on Dec. 12.
For more information, contact Dumas at 916-978-4678.
---
The BLM manages more than 245 million acres of public land located primarily in 12 western states, including Alaska, on behalf of the American people. The BLM also administers 700 million acres of sub-surface mineral estate throughout the nation. Our mission is to sustain the health, diversity, and productivity of America's public lands for the use and enjoyment of present and future generations.
Organization
Bureau of Land Management
Office
Northern California District Office
Contacts
Related Content