Race planned for Fort Sage OHV Area near Doyle Nov. 7; public riding will be limited
BLM Office:
Eagle Lake Field Office
Region:
California
Northern California DO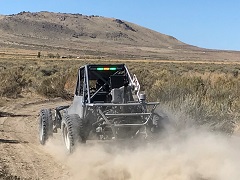 SUSANVILLE, Calif. -- Public riding and driving will be restricted in parts of the Bureau of Land Management's Fort Sage Off-Highway Vehicle area near Doyle, during the "Fight at the Fort"
off-road-vehicle race set for Saturday, Nov. 7
During the event, only race participants will be allowed on the racecourse bounded by Summers Road on the west, Fort Sage Road on the south, and Cal Neva Road on the east. The racecourse will be marked with signs and monitored by race officials. 
"We expect approximately 70 competitors to participate in the race taking place November 7," said Emily Ryan, manager of the BLM Eagle Lake Field Office in Susanville. "To protect public safety, casual riders and spectators are asked to remain off the trails while these high-speed races are underway"
The races are sponsored by the Valley Off-Road Race Association of California and Nevada, which has a special recreation permit from the BLM. The organizers will provide course marshals, and the BLM will provide law enforcement rangers and other staff to help monitor the event and provide information.
For more information, contact Outdoor Recreation Planner Marisa Williams at the BLM office in Susanville, 530-257-0456.
---
The BLM manages more than 245 million acres of public land located primarily in 12 western states, including Alaska, on behalf of the American people. The BLM also administers 700 million acres of sub-surface mineral estate throughout the nation. Our mission is to sustain the health, diversity, and productivity of America's public lands for the use and enjoyment of present and future generations.