Public invited to family friendly celebration for South Cow Mountain OHV Management Area reopening
BLM Office:
Ukiah Field Office
Region:
California
Central California DO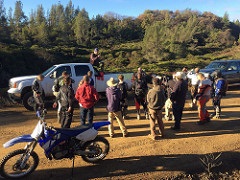 UKIAH, Calif. – The Bureau of Land Management Ukiah Field Office and partners from the off-highway vehicle community invite the public to celebrate the reopening of the South Cow Mountain OHV Management Area on Saturday, July 27. Everyone is welcome to come out to this free, family friendly celebration.
The South Cow Mountain OHV Management area has been extensively restored since the Mendocino Complex Fire ignited last summer and burned more than 459,000 acres.  Approximately 80 miles of trails have reopened, while work continues on more than 13 miles of trails.
"The OHV community has really rallied to help the BLM repair trails, fix culverts and install new signage to be able to reopen South Cow Mountain OHV Management Area to the public," says Ukiah Field Manager Amanda James. "We couldn't have done it so quickly without the help of the dedicated volunteers, and this is a great way for everyone to be able to celebrate their hard work."
Activities kick off at 8 a.m. at the Westside Staging Area with a certified dirt bike and side-by-side training for new riders, offered by the OHV clubs for kids and adults. Please contact Matt Mattison at mattmattison707@yahoo.com to register for the certified training.
There will also be a barbecue and potluck lunch, raffle, educational booths and outdoor games. The barbecue and potluck lunch and raffle will start at 1 p.m. at the Red Mountain Campground, where the BLM will host "Leave No Trace," "TREAD Lightly!" and trail etiquette booths and outdoor games from 9:30 a.m. to 5 p.m. Camping at the Red Mountain Campground is on a first come, first serve basis. The South Cow Mountain OHV Management Area will remain open to the public during the event.
Co-sponsors for the event include the BLM, 707 Trail Riders, Black Diamond 4x4 Club, California Recreation Alliance, Cody Cares, Marin County Motorcycle Association, McBride Racing, Mendocino 4x4 Club, NorCal 4WD Club Coalition, North Bay Motorcycle Club, Post Wildfire OHV Recovery Alliance, Santa Rosa 4x4 Club, Valley Climbers Motorcycle Club and Wine Country Rock Crawlers.
The South Cow Mountain OHV Management Area encompasses roughly 23,000 acres of public lands challenging motorcyclists, all-terrain vehicle drivers and four-wheel drive enthusiasts. Click here for more information and directions to the South Cow Mountain OHV Management Area.
For specific questions, or reasonable accommodations to participate, please call the Ukiah Field Office at 707-468-4000.
---
The BLM manages more than 245 million acres of public land located primarily in 12 western states, including Alaska, on behalf of the American people. The BLM also administers 700 million acres of sub-surface mineral estate throughout the nation. Our mission is to sustain the health, diversity, and productivity of America's public lands for the use and enjoyment of present and future generations.