Previous closure of the Pacific Crest Trail due to Valley Fire lifted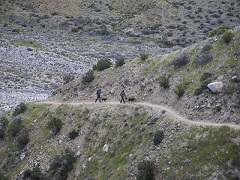 MORENO VALLEY, Calif. – The Bureau of Land Management (BLM) Palm Springs-South Coast Field Office has rescinded a closure order restricting access to a portion of the Pacific Crest Trail managed by the BLM in the vicinity of the Valley Fire in the Lawson Valley and Japatul areas in San Diego County. The Valley Fire burned approximately 17,100 acres and is 95 percent contained.
The closure restricted access to approximately 10.5 miles of trail between Highway 94, near the community of Campo, CA, and the Cleveland National Forest boundary on Hauser Mountain in San Diego County. The public can now traverse this portion of the Pacific Crest Trail managed by the BLM. All other closure orders and fire prevention orders not specifically rescinded remain in effect. 
An interactive map and listing of fire restrictions throughout BLM California are available at https://go.usa.gov/xmUEG. To learn how you can do your part to prevent wildland fires visit www.readyforwildfire.org.
---
The BLM manages more than 245 million acres of public land located primarily in the 11 Western states and Alaska. The BLM also administers 700 million acres of sub-surface mineral estate throughout the nation. In fiscal year 2018, the diverse activities authorized on BLM-managed lands generated $105 billion in economic output across the country. This economic activity supported 471,000 jobs and contributed substantial revenue to the U.S. Treasury and state governments, mostly through royalties on minerals.
Organization
Bureau of Land Management
Office
Palm Springs-South Coast Field Office
Contacts
Related Content