Nevada County tire amnesty week, sponsored by the Bureau of Land Management and partners
BLM Office:
Mother Lode Field Office
Region:
California
Central California DO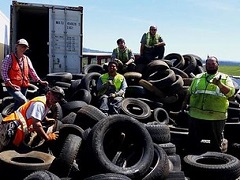 EL DORADO HILLS, Calif. – Nevada County residents are invited to participate in the annual tire amnesty event Sept. 21-25, from 8 a.m. to 2 p.m. daily.  Residents of Nevada County, who have bald tires, flat donut replacements or worn out snow studs can bring them to this event for disposal. The Bureau of Land Management, Tahoe National Forest, Waste Management and Nevada County sponsor the event.
"Illegal dumping continues to be a serious problem. This event is a positive, proactive approach to prevent illegal dumping on America's public lands and helps keep our communities and the environment clean," says Mother Lode Field Manager Elizabeth Meyer-Shields. "It is much easier to dispose of unwanted tires in this way, rather than the difficult task of pulling a heavy tire out of a steep ravine."
Tires are not accepted from businesses and no tractor or commercial tires or tires with rims are allowed. Please transport tires for disposal in trailers, pickup beds or in the vehicle's trunk, as personnel will not unload tires from the interior of a person's car. Individuals who wish to dispose of more than nine tires must request an exemption letter from the Nevada County Department of Environmental Health by calling 530-265-1469. Nevada County residents can dispose of up to nine tires at no cost at the following locations:
Sept. 21-22: Waste Management-McCourtney Road Transfer Station, 14741 Wolf Mountain Rd., Grass Valley, CA  95949
Sept. 23: Waste Management-North San Juan Transfer Station, 10125 Flume St., North San Juan, CA  95960
Sept. 24: Penn Valley Community Rodeo Grounds (behind the fire station), 10513 Spenceville Rd., Penn Valley, CA  95946
Sept. 25: Waste Management-Washington Transfer Station, 15886 Gaston Rd., Washington, CA  95986
Participants are encouraged to monitor AirNow.gov, as this event will be postponed if the Air Quality Index is 200 or higher. Updates will also be provided on BLM California's social media at @BLMCalifornia and @BLMCA.
The safety of all participants is our top priority. All current COVID-19 precautions, including face coverings, will be required.
The BLM is committed to keeping America's public landscapes healthy and productive. Approximately 7,000 tires are turned in each year. Since 2014, the BLM has co-sponsored the event and has helped collect nearly 30,000 tires for recycling. For more information, please call the Mother Lode Field Office at 916-941-3101.
---
The BLM manages more than 245 million acres of public land located primarily in 12 western states, including Alaska, on behalf of the American people. The BLM also administers 700 million acres of sub-surface mineral estate throughout the nation. Our mission is to sustain the health, diversity, and productivity of America's public lands for the use and enjoyment of present and future generations.