Motorcycle races coming for Fort Sage area; some trail access will be limited
BLM Office:
Eagle Lake Field Office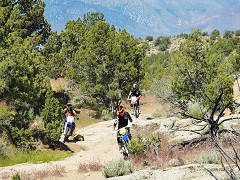 DOYLE, Calif. ­– Up to 200 riders are expected to participate in the Diamond Back Hare Scrambles motorcycle race, Saturday and Sunday, April 13 and 14, at the Fort Sage Off-Highway Vehicle Area near Doyle. Trail access will be available only to participants while the races are underway.   
Spectators are welcome at designated viewing areas at the Widow Maker, Land of David and Raptor trailheads.  Participants and visitors can camp overnight at the main Fort Sage Trailhead.  Single-day visitors will use parking areas along access roads.
"We have worked with race organizers to lay out a new course this year," said Brian Novosak, manager of the BLM Eagle Lake Field Office in Susanville.  "It will provide challenges for the riders and avoid areas where fire recovery is underway.  We are pleased to provide this site for competitive dirt bike riders."
To reach the Fort Sage Trailhead, take the Laver Crossing Road (just north of Doyle) east from Highway 395. Turn right on Hackstaff Road, then turn left onto Fort Sage Road and follow signs.  Spectator information will be available at the registration trailer.
The Lassen Motorcycle Club and the Motorcycle Racing Association of Northern Nevada sponsor this race under a special recreation use permit from the BLM.  The organizers will provide course marshals, and the BLM will provide law enforcement rangers and staff to help monitor the event.
For more information, telephone Marisa Williams at the BLM office in Susanville, 530-252-5303. More information about the Fort Sage Off-Highway Vehicle Area is available by visiting https://www.blm.gov/visit/fort-sage.
---
The BLM manages more than 245 million acres of public land located primarily in 12 western states, including Alaska, on behalf of the American people. The BLM also administers 700 million acres of sub-surface mineral estate throughout the nation. Our mission is to sustain the health, diversity, and productivity of America's public lands for the use and enjoyment of present and future generations.