Johnson Valley Shared Use Area Resource Management Group Meeting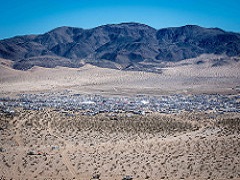 BARSTOW, Calif. – Representatives from the Bureau of Land Management Barstow Field Office and the Marine Corps Air Ground Combat Center at Twentynine Palms will host a Resource Management Group meeting from 10 to 11 a.m., April 6, at the Yucca Room at the Yucca Valley Community Center, 57090 Twentynine Palms Highway, Yucca Valley. The meeting is open to the public.
Representatives will be available to answer questions and discuss the Shared Use Area of the Johnson Valley Off-Highway Vehicle Recreation Area.
As previously announced, the Johnson Valley Shared Use Area will remain open to the public from August 1-30 and will not be used for military training. The closure of the Shared Use Area for military use was determined to be unnecessary after the Marine Corps revised the scope of training to be conducted in August 2019. Training conducted in August 2019 will utilize ranges on the installation, including the land acquired through the land expansion. All training will occur within Combat Center boundaries.
For more information about this public meeting, contact Katrina Symons, Barstow Field Manager, at 760-252-6004.
---
The BLM manages more than 245 million acres of public land located primarily in 12 western states, including Alaska, on behalf of the American people. The BLM also administers 700 million acres of sub-surface mineral estate throughout the nation. Our mission is to sustain the health, diversity, and productivity of America's public lands for the use and enjoyment of present and future generations.
Organization
Bureau of Land Management
Office
Barstow Field Office
Contacts
Related Content