Invitation to Provide Input on BLM OHV Grant Proposals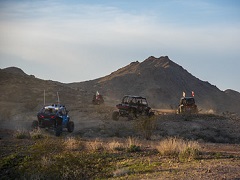 MORENO VALLEY, Calif. - The Bureau of Land Management is hosting several public and stakeholder meetings to gather input on the development of off-highway vehicle (OHV) grant proposals for submission to the California State Parks, Off-Highway Motor Vehicle Recreation (OHMVR) Division.  Grant applications are currently being prepared by the BLM staff for the 2019/2020 grant cycle.    
 
The OHMVR Division's Grants and Cooperative Agreements Program supports well-managed, off-highway vehicle recreation in California by providing financial assistance to cities, counties, districts, educational institutions, state agencies, federal agencies, federally recognized Native American Tribes and nonprofit entities. 
The BLM applies for grants from the California Department of Parks and Recreation OHMVR Division each year to help fund and coordinate its OHV programs. The grants support OHV management activities such as law enforcement, resource protection, planning and monitoring, visitor services, and maintenance on BLM lands throughout the state. 
The scoping meeting is scheduled for the first 45 minutes and the stakeholder meeting will immediately follow.  Stakeholders and members of the public are invited to attend either session or both:  
Thursday, Jan. 23, from 4:30 – 6 p.m.
Ridgecrest Field Office
300 South Richmond Road
Ridgecrest, CA 93555
Wednesday, Feb. 5, from 4:30 – 6 p.m.
Needles Field Office
1303 S. Highway 95
Needles, CA 92363
Wednesday, Feb. 12, from 4:30 – 6 p.m.
Barstow Field Office
2601 Barstow Road
Barstow, CA 92311
Thursday, Feb. 13, from 4 – 6 p.m.
Palm Springs-South Coast Field Office
1201 Bird Center Drive 
Palm Springs, CA 92262
Monday, Feb. 24, from 4:30 – 6 p.m.
El Centro Field Office
1661 South 4th St.
El Centro CA 92243
Preliminary applications must be submitted to OHMVR Division no later than March 2 and they  will be available on the OHMVR Division's website at www.ohv.parks.ca.gov/, for additional public review and comment from March 3 - May 4.  The website will provide detailed instructions for accessing the preliminary applications and submitting comments.  Public comments should be submitted to both the OHMVR Division and to the appropriate BLM field office by May 4.
As stewards, the BLM manages public lands for the benefit of current and future generations, supporting conservation in pursuit of its multiple-use mission.
 
---
The BLM manages more than 245 million acres of public land located primarily in 12 western states, including Alaska, on behalf of the American people. The BLM also administers 700 million acres of sub-surface mineral estate throughout the nation. Our mission is to sustain the health, diversity, and productivity of America's public lands for the use and enjoyment of present and future generations.
Organization
Bureau of Land Management
Office
California Desert District Office
Contacts
Related Content