Emily Ryan named manager of BLM Eagle Lake Field Office, Susanville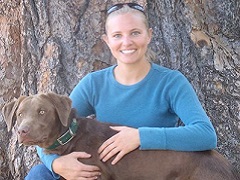 SUSANVILLE, Calif. – Emily Ryan, a natural resource management professional with wide-ranging experience, has been named manager of the Bureau of Land Management's Eagle Lake Field Office in Susanville.
"Emily has already proven herself to be an effective leader in the Eagle Lake Field Office, having served as associate field manager since 2014," said Alan Bittner, manager of the BLM's Northern California District.  "She is well versed in the natural resource management issues and partnerships important in northeast California public land management."
Ryan replaces Brian Novosak, who is now with the BLM's California State Office in Sacramento.
A native of Whitethorn on the California North Coast, Ryan holds a bachelor's degree in animal science from California Polytechnic State University, San Luis Obispo.  While in college she worked for California State Parks and the California Department of Fish and Wildlife.  Ryan began her federal career serving with the U. S. Fish and Wildlife Service in Alaska and on the California North Coast.  She joined the BLM's Arcata Field Office as a technician in the wildlife and cultural resources programs and then moved Alturas, where she was the BLM's realty and land use planning specialist.
"I have a passion for the public lands, both professionally and personally," Ryan said.  "I believe that the public lands are among our country's greatest treasures, and I enjoy working with our staff and partners to manage and improve these lands that contribute so much to our quality of life and the livelihoods of our communities."
When not working on the public lands Ryan and her family are recreating on them.  She and her husband, Dan, are already sharing with their seven-month-old son adventures in camping, hiking, hunting and fishing.
---
The BLM manages more than 245 million acres of public land located primarily in 12 western states, including Alaska, on behalf of the American people. The BLM also administers 700 million acres of sub-surface mineral estate throughout the nation. Our mission is to sustain the health, diversity, and productivity of America's public lands for the use and enjoyment of present and future generations.
Organization
Bureau of Land Management
Office
Eagle Lake Field Office
Contacts
Related Content