Cronan Ranch temporarily closed during BLM prescribed burn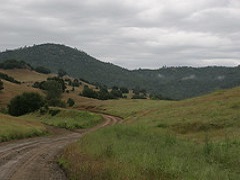 EL DORADO HILLS, Calif. – The Bureau of Land Management Mother Lode Field Office will temporarily close Cronan Ranch to the public as a precaution on Thursday, June 6, during a prescribed burn of roughly 40 acres of noxious grass and brush, depending on weather and air quality conditions. Cronan Ranch is located near the community of Pilot Hill, in El Dorado County.
The BLM will conduct the prescribed burn in partnership with CAL FIRE.  The South Fork of the American River pullouts, restrooms and parking lot will remain accessible to commercial outfitters at Cronan Ranch. Nearby Magnolia Ranch, Dave Moore Nature Park and Greenwood Creek River Access will also remain open during the prescribed burn.
The BLM uses an Integrated Weed Management Strategy at Cronan Ranch; weed treatments include herbicide application, sheep grazing and prescribed fire to kill invasive, noxious weeds like Medusa head and yellow starthistle plants, before they have a chance to set seed. Prescribed fire helps increase the diversity of vegetation like native purple needle grass, restores balance to the ecosystem by reducing the available fuel load, and helps minimize fire starts along the trail system.
The BLM is committed to keeping public landscapes healthy and productive. The exact timing of the prescribed burn will depend on temperature, wind and relative humidity and is being conducted in close coordination with the El Dorado Air Quality Management District. Smoke may be visible in the communities of Lotus and Pilot Hill. Updated information will be provided on BLM California social media sites using #RxBurn.
Cronan Ranch is part of a popular hiking, biking and equestrian trail system that has roughly 30,000 visitors annually. For more information, please call the Mother Lode Field Office at 916-941-3101.
---
The BLM manages more than 245 million acres of public land located primarily in 12 western states, including Alaska, on behalf of the American people. The BLM also administers 700 million acres of sub-surface mineral estate throughout the nation. Our mission is to sustain the health, diversity, and productivity of America's public lands for the use and enjoyment of present and future generations.
Organization
Bureau of Land Management
Office
Mother Lode Field Office
Contacts
Related Content