Comments sought by Aug. 10 for Alaska Native Veterans Land Program Proposed Rules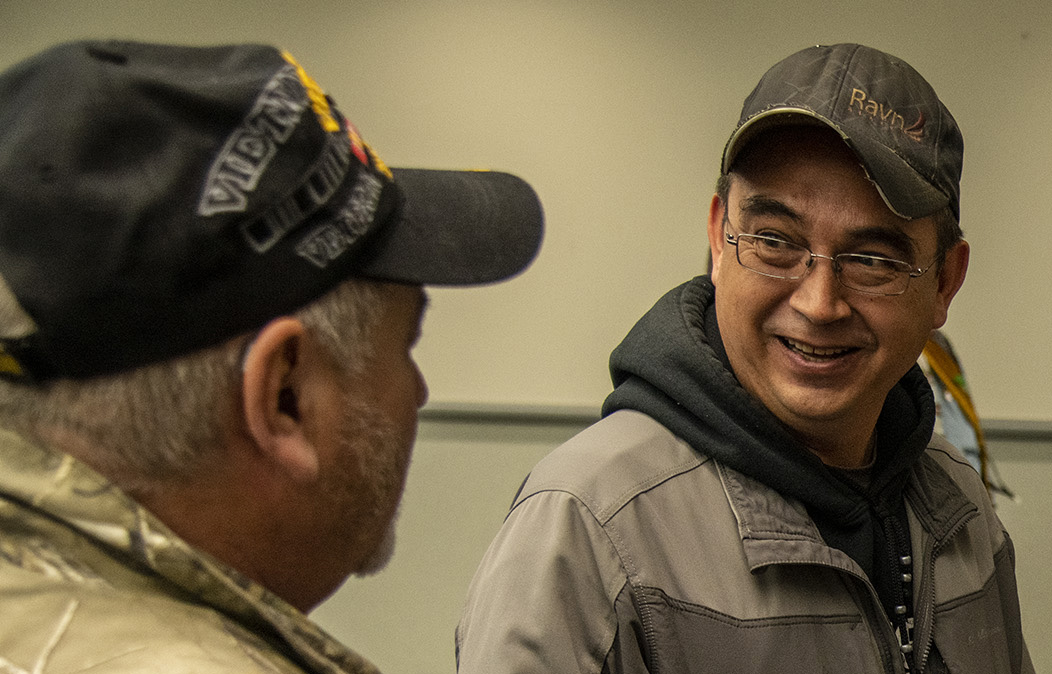 ANCHORAGE – The BLM is seeking public comments for the next 30 days on the rules proposed to govern the Dingell Act's Alaska Native Veterans Program of 2019, which permits eligible Vietnam-era veterans or their heirs to apply for an allotment of up to 160 acres of federal land in Alaska.
The official comment period begins tomorrow with the publication in the Federal Register and will conclude Aug. 10. Once final rules are published in fall 2020, they will govern administration of the program and officially begin the application period.
A concurrent series of virtual public meetings with live social media broadcasts is scheduled for community members to learn more about the program and ask questions as the BLM continues following social distancing guidelines to keep its communities and employees safe. Oral comments cannot be accepted, to include at public meetings, due to the unique nature of developing federal rules.
"I am excited by our progress toward achieving this mandate by Congress, and I'm honored to be part of the team fulfilling our obligations under the Native Allotment Act of 1906 and to our Alaska Native veterans who served this country proudly and honorably," said BLM State Director Chad Padgett. "I'm in awe of the commitment and dedication by so many agencies and organizations who continue working together with singularity of purpose to make this program a success."
The BLM began mailing letters to more than 1,000 Alaska Native Vietnam-era veterans and their heirs July 2 notifying them that they are eligible to apply under program. The Bureau of Indian Affairs (BIA) and Department of Veterans Affairs (VA) are still determining eligibility status for about 1,000 more Alaska Native Vietnam-era veterans. The process will likely take some time, but the BLM will mail those additional notifications as soon as eligibility is confirmed. Those who believe they are eligible should ensure their contact information is updated with their BIA Realty Tribal Service Provider.
Applications for this 5-year program will be mailed separately when the final rules are published later this year, and downloadable copies will be available on the program web page (www.blm.gov/alaska/2019AKNativeVetsLand).
Many eligible veterans live outside of Alaska now and about 40% are deceased, according to BIA and VA records. Notifications were sent to the best-known addresses for veterans and their next of kin, but the Bureau of Indian Affairs (BIA) suspects contact information remains outdated for notifying many veterans and their heirs of eligibility.
The BLM and BIA are still looking for nationwide help to make eligible veterans and their loved ones aware of the program. They are asking the public to encourage those who think they may be eligible to update their contact information with BIA Realty Tribal Service Providers and Alaska State Court-appointed personal representatives (if needed). 
Find progress updates, information, timelines, the available lands map, and answers to frequently asked questions about the Alaska Native Veterans Program of 2019 on BLM Alaska's program web page.
READ THE PROPOSED RULES
You can download and read the proposed rules on the Federal Register website at https://www.federalregister.gov/documents/2020/07/10/2020-13808/alaska-native-vietnam-era-veterans-allotments.
ATTEND VIRTUAL PUBLIC MEETINGS
Four two-hour virtual public meetings are scheduled July 15 & 16 to provide a brief about the program and proposed rules, as well as answer questions. You can register to attend any of the meetings using the links provided below. Once registered, you will receive instructions for participating online or by phone. Please note that due to the unique nature of developing federal rules comments can only be accepted by mail or online.
July 15
10 a.m.-Noon | Registration for this meeting has closed.
1-3 p.m. | Registration for this meeting has closed.
July 16
1-3 p.m. | Registration for this meeting has closed.
4-6 p.m. | Registration for this meeting has closed.
These meetings will also be streamed live on social media for those who desire to watch without interacting at https://www.facebook.com/BLM.NPRA.SAP/.
COMMENT ON THE PROPOSED RULES
You may submit comments on the proposed rule, identified by the number RIN 1004-AE66, by any of the following methods:
Mail/ Personal or messenger delivery postmarked by Aug. 10: S. Department of the Interior, Director (630), Bureau of Land Management, Mail Stop 2134 LM, 1849 C St., N.W., Washington, D.C. 20240, Attention: RIN 1004-AE66.
Federal eRulemaking portal by Aug 10: http://www.regulations.gov. In the Search box, enter "RIN 1004-AE66" and click the "Search" button. Follow instructions on this website.
COMMENT ON INFORMATION COLLECTION
The proposed rule includes information collection activities that must be approved by the Office of Management and Budget within 30-60 days. You may submit comments on the information collection activities by any of the following methods. Please indicate "OMB Control Number 1004–AE66" regardless of the method used to submit comments on information collection.
#2019AKNativeVetsLand
#AKDingellAct
 
---
The BLM manages more than 245 million acres of public land located primarily in 12 western states, including Alaska, on behalf of the American people. The BLM also administers 700 million acres of sub-surface mineral estate throughout the nation. Our mission is to sustain the health, diversity, and productivity of America's public lands for the use and enjoyment of present and future generations.
Contacts
Name:
Lesli Ellis-Wouters