Come "Discover the Coast" at Point Arena community celebration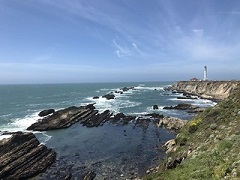 POINT ARENA, Calif. – The Bureau of Land Management Ukiah Field Office and the Point Arena community invites the public to come out and celebrate "Discover the Coast," on Oct. 19, from 10 a.m. to 4 p.m., at the Point Arena-Stornetta unit of the California Coastal National Monument.
This free community celebration is sponsored by the BLM, Mendocino College, Friends of Point Arena-Stornetta Lands, Point Arena Lighthouse and the City of Point Arena.
The event will include shuttle service to guided nature walks about sinkholes, sea caves and native plants, as well as informational stations along the Discovery Trail, which connects City Hall and Lighthouse Road. Participants can learn how to test streams for water quality or look through spotting scopes to view coastal seabirds, harbor seals, sea lions and whales.
The BLM will have educational booths located at the trailhead, explaining the history, inhabitants and uses of coastal prairies to help maintain the ecosystem.
The Mendocino College Coastal Field Station will have an open house highlighting ongoing field studies. The Point Arena Lighthouse Museum grounds and gift shop will be open for browsing. Lighthouse tower tours will be offered at a discounted rate. Refreshments will be available for purchase at the Field Station and Lighthouse.
The BLM strives to be a good neighbor in the communities it serves, connecting kids to public lands connects them to the nation's natural and cultural heritage. For more information about this family friendly event, visit http://pointarenalighthouse.com/visit/calendar-2/discover-the-coast/.
This year, we invite everyone to reimagine your public lands as we celebrate 75 years of the BLM's stewardship and service to the American people. The BLM manages approximately 245 million acres of public land located primarily in 12 Western states, including Alaska. The BLM also administers 700 million acres of sub-surface mineral estate throughout the nation. The agency's mission is to sustain the health, diversity, and productivity of America's public lands for the use and enjoyment of present and future generations. 
Organization
Bureau of Land Management
Office
Ukiah Field Office
Contacts
Related Content