Central Coast Field Office begins Tumey Hills construction to improve public access
BLM Office:
Central Coast Field Office
Region:
California
Central California DO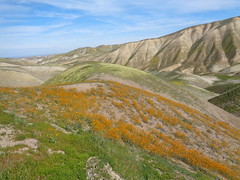 MARINA, Calif. – The Bureau of Land Management will be making recreation facility improvements in April to the East Tumey Day Use Area, San Benito County, to improve public access, provide safer parking options and help reduce impacts to private property. A seasonal road closures will also go into effect in the Panoche and Tumey Hills on April 15.
Crews will be working in the Tumey Hills area from Mondays to Thursdays, 8 a.m. to 4 p.m., and may need to restrict public access to some areas during the construction. Target shooters should be mindful of construction workers in the area and ensure they are utilizing a proper backstop.
Facility improvements will provide additional parking and access to this area during the summer months. Once complete, the public can use the newly authorized parking areas and should avoid parking illegally along the County Road or on private property.
The BLM is committed to keeping public landscapes healthy and productive. The public is reminded to pick up after themselves and follow the "Leave No Trace" and "Tread Lightly!" principles. Recreational shooters are reminded to clean-up trigger trash, spent shells and exploded targets. For more information, visit https://www.blm.gov/learn/outdoor-ethics.
The Panoche and Tumey Hills were once covered by a vast inland sea. Today, marine fossils of fish and turtles can be found and some of the light porous rocks contain tiny, bleached and shell-like skeletons of sea algae. The 2,500 feet high hilltops offer scenic vistas of the lush San Joaquin Valley and spectacular Sierra Nevada. Both areas offer day-use facilities with parking areas, shade structures, picnic benches, vault toilets and interpretive kiosks showing maps and information. For information, please contact the Central Coast Field Office at 831-582-2200.
---
The BLM manages more than 245 million acres of public land located primarily in 12 western states, including Alaska, on behalf of the American people. The BLM also administers 700 million acres of sub-surface mineral estate throughout the nation. Our mission is to sustain the health, diversity, and productivity of America's public lands for the use and enjoyment of present and future generations.