California Desert District Interagency Fire Program seeking applicants for fire positions
BLM Office:
California Desert District Office
Region:
California
California Desert DO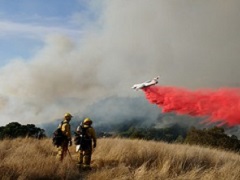 MORENO VALLEY, Calif. – The California Desert District Interagency Fire Program is now accepting applications for 2020 summer seasonal wildland firefighting jobs for engine and helicopter crews and fire dispatcher personnel. Positions are available in Apple Valley, Banning, Essex, Ridgecrest, San Bernardino, and Yucca Valley.   
The Federal Interagency Communication Center (dispatch center) is located in San Bernardino and provides dispatch services for the Bureau of Land Management, National Park Service, Bureau of Indian Affairs, and the US Forest Service.
The following seasonal wildland firefighting positions are now open on USAJobs:
The BLM will also hold open-house events for potential applicants interested in filling these seasonal wildland firefighting positions. The following open-house events will take place on Jan. 7, 2020, from 11 a.m. to 2 p.m.: 
Fire staff will be on hand to answer questions as well as offer tours of facilities and engines. BLM and NPS staff will offer resume tips and explain the USAJobs application process as well as provide potential applicants with a feel for what it is like to work on a seasonal fire crew. Those selected for seasonal wildland firefighting positions will receive training.
To be considered, applications must be completed and filed online by the due date listed in the USAJobs announcement. Please see the job announcements (above) for more information on qualifications, salary information, application instructions, and application deadlines.
---
The BLM manages more than 245 million acres of public land located primarily in 12 western states, including Alaska, on behalf of the American people. The BLM also administers 700 million acres of sub-surface mineral estate throughout the nation. Our mission is to sustain the health, diversity, and productivity of America's public lands for the use and enjoyment of present and future generations.