The Bureau of Land Management to reopen Cache Creek Natural Area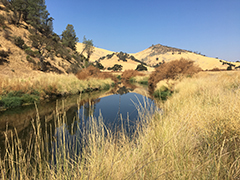 Ukiah, Calif. – The Bureau of Land Management Ukiah Field Office will reopen portions of the Cache Creek Natural Area, which is part of the Berryessa Snow Mountain National Monument, in Lake and Colusa counties due to reduced wildland fire danger. The area will be reopened to the public at 9:00 a.m. on Friday, Sept. 4, for hiking, biking, hunting, horseback riding and camping.
Public lands in and adjacent to the monument were temporarily closed on Aug. 19, as a safety precaution due to the proximity of the LNU Lighting Complex Fire.
Portions of the Cache Creek Natural Area north of the County Road 40 Bridge will reopen, including the Cache Creek Ridge Trail, Cache Creek Wilderness, Cowboy Camp and the associated equestrian area, Highbridge Trailhead, Redbud Trail and Perkins Creek Ridge Trail. The Buck Island Rafting Area will reopen, but no vehicle access will be available. These areas are being reopened as they were not impacted by the fire. However, Blue Ridge Trail, Fiske Creek Trail and Frog Pond Trail remain closed due to wildland fire activity.
BLM closure orders remain in effect for: Cedar Roughs Wilderness; Knoxville Management Area, including the Knoxville Off-Highway Vehicle Recreation Area, Hunting Creek Campground and the North Staging Area; Berryessa Management Area; as well scattered tracts at Stebbins Cold Canyon, in Napa, Solano and Yolo counties.
The burn area is still under an evacuation order, as well as a closure order by the Sonoma County Health Officer.
Multiple fires have merged to form the LNU Lightning Complex, which has burned more than 375,000 acres in five counties: Lake, Napa, Solano, Sonoma and Yolo. The public is reminded to stay vigilant on current fire conditions, adhere to road closures and any evacuation warnings. Please also drive slowly and yield to emergency personnel in the area. The latest fire information is available at https://www.fire.ca.gov/incidents/2020/8/17/lnu-lightning-complex-includes-hennessey-gamble-15-10-spanish-markley-13-4-11-16-walbridge/.
Resource specialists are assessing the burned areas and BLM will reopen these areas as soon as we can do so safely. For specific questions, please call the Ukiah Field Office at 707-468-4000.
This year, we invite everyone to reimagine your public lands as we celebrate 75 years of the BLM's stewardship and service to the American people. The BLM manages approximately 245 million acres of public land located primarily in 12 Western states, including Alaska. The BLM also administers 700 million acres of sub-surface mineral estate throughout the nation. The agency's mission is to sustain the health, diversity, and productivity of America's public lands for the use and enjoyment of present and future generations. 
Organization
Bureau of Land Management
Office
Ukiah Field Office
Contacts
Related Content
Attachments