BLM will offer horses for adoption in Oakdale; incentive payments available
BLM Office:
Northern California District Office
Region:
California
Northern California DO
Applegate FO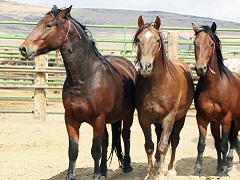 OAKDALE, Calif. – Wild horses and burros from California and Nevada rangelands will be available for public adoption, Saturday and Sunday, May 18 and 19, at the Oakdale Rodeo Grounds, 1624 East F St., in Oakdale.   The Bureau of Land Management will offer ten mares and geldings aged 2 to 4-years-old and ten yearling fillies and colts under 2-years-old.  The adoption offering includes ten burros of all ages. 
Anyone interested can preview the animals from 3 to 5 p.m. Friday, May 17.  Adoptions get underway with an hour-long silent auction at 9 a.m. Saturday.  Animals remaining after bidding will be available for the BLM's $25 adoption fee.  Animals will be available until 3 p.m. Sunday.
Adopters will be eligible to receive the BLM's adoption incentive payments totaling $1,000 per animal. Under this program adopters can receive a $500 payment at the time of adoption and an additional $500 when they receive title to their animals a year later.
 "These animals are healthy and ready to train for pleasure riding, work or competition," said Alan Bittner, manager of the BLM's Northern California District.  "They have been vaccinated against all common equine diseases including West Nile virus.  We provide complete health care records."
To qualify, adopters must be at least 18 years old and have no convictions for animal abuse.  They must provide corral space, shelter and care that meet BLM requirements.  These requirements can be found at https://www.blm.gov/programs/wild-horse-and-burro/adoption-and-sales.
Animals coming to Oakdale are from the Devil's Garden Herd Territory (Modoc National Forest) in northeast California and the BLM Triple B Herd Management Area in northeast Nevada.  They were removed from the range to keep wild populations at sustainable levels.
---
The BLM manages more than 245 million acres of public land located primarily in 12 western states, including Alaska, on behalf of the American people. The BLM also administers 700 million acres of sub-surface mineral estate throughout the nation. Our mission is to sustain the health, diversity, and productivity of America's public lands for the use and enjoyment of present and future generations.