BLM Ukiah Field Office offering guided bald eagle hikes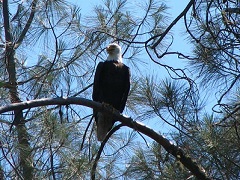 UKIAH, Calif. – The Bureau of Land Management Ukiah Field Office will be offering free, five-mile guided hikes to look for wintering bald eagles in the Cache Creek Natural Area in Lake County. The hikes will begin at 10 a.m. every Saturday from Jan. 4 through Feb. 8.
Early reservations are recommended for the popular hikes, which last about four hours. Hikes are limited to 25 participants each and fill up quickly. To reserve a space for a specific day, or to request reasonable accommodations to participate, please call the BLM Ukiah Field Office at 707-468-4000.
Participants will meet at the Redbud Trailhead parking area located eight miles east of the community of Clearlake Oaks on State Route 20. The trailhead is just west of the North Fork Cache Creek Bridge within the Cache Creek Natural Area, a portion of Berryessa Snow Mountain National Monument.
The trail includes a steep 600-foot climb in the first mile, so hikers should be in good physical condition. Participants should wear sturdy hiking boots suitable for wet conditions and dress for cold weather. Please bring water, a lunch and binoculars, as most eagle sightings are from a distance. Hikes will be cancelled in rainy weather.
Public lands keep America not only beautiful, but also strong. Hikers will enjoy scenic vistas of the Cache Creek Canyon where eagles often soar over the creek or perch in streamside trees. Participants often spot other wildlife including tule elk, golden eagles, osprey, herons, red-tailed hawks and egrets.
The BLM believes partnerships and inclusion are vital to managing sustainable, working public lands. The Cache Creek Natural Area is cooperatively managed by the BLM and California Department of Fish and Wildlife. Cache Creek is located within a portion of Berryessa Snow Mountain National Monument, which is jointly managed by the BLM and the Mendocino National Forest.
This year, we invite everyone to reimagine your public lands as we celebrate 75 years of the BLM's stewardship and service to the American people. The BLM manages approximately 245 million acres of public land located primarily in 12 Western states, including Alaska. The BLM also administers 700 million acres of sub-surface mineral estate throughout the nation. The agency's mission is to sustain the health, diversity, and productivity of America's public lands for the use and enjoyment of present and future generations. 
Organization
Bureau of Land Management
Office
Ukiah Field Office
Contacts
Related Content