BLM Seeks Public Input on Draft Plan for Palen Solar Photovoltaic Project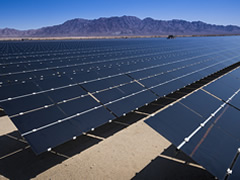 MORENO VALLEY, Calif. – The Bureau of Land Management is seeking public comment on an environmental analysis and land use plan amendment for the proposed 500 megawatt Palen Solar Photovoltaic Project on public lands in eastern Riverside County.  The action is consistent with the Trump Administration's priority of promoting American-made energy development on public lands, improving infrastructure and creating jobs in local economies.
The BLM announced in the Federal Register today that the Draft Supplemental Environmental Impact Statement/Environmental Impact Report and Draft Land Use Plan Amendment are available, kicking off the 45-day public comment period, during which interested members of the public are invited to attend open house meetings, ask questions about the project, and provide comments to the draft plan. The BLM has scheduled a public meeting for Nov. 14, 2017, from 4 to 6 p.m., at UCR Palm Desert Center, Room B200, 75080 Frank Sinatra Drive, Palm Desert, CA.
"The BLM is committed to supporting responsible energy development, including for transmission, that stabilizes the grid and strengthens America's energy infrastructure," said Beth Ransel, BLM California Desert District Manager. "We welcome opportunities  to help make public lands work for local communities."
The project proponent estimates that if approved, the Palen project will employ approximately 700 individuals during the project's peak, with an average construction-related, on-site workforce of more than 175 individuals, including 12 full-time staff members.
The Palen Solar Photovoltaic Project will consist of a main generation area, on-site substation, switchyard, site security, a 230 kV generation-tie line, and an operations and maintenance facility potentially onsite.  A major component will be a change in technology to the pending right-of-way application that converts to a photovoltaic project footprint from a previously proposed power tower configuration. The BLM is the lead federal agency for the National Environmental Policy Act review, and Riverside County is the lead agency for the California Environmental Quality Act review.
The public is encouraged to provide written comments via mail: Palen Solar PV Project, c/o Aspen Environmental Group, 235 Montgomery Street, Suite 935, San Francisco, CA 94104; via email: palensolar@blm.gov; or via FAX: 760-833-7199.
The public is reminded that before including their personal address, phone number, email address, or other personal identifying information in submitted comments, they be aware that the entire comment—including  personal identifying information—may be made publicly available at any time. The public may request the BLM to withhold personal identifying information from public review; however, the BLM cannot guarantee that it will be able to do so. 
The DEIS/DEIR, Draft Land Use Plan Amendment, along with the agency preferred alternative for the Palen Project, can be viewed at: https://eplanning.blm.gov/epl-front-office/eplanning/planAndProjectSite.do?methodName=renderDefaultPlanOrProjectSite&projectId=68122.
For further information, please contact Stephen Razo, BLM Public Affairs Officer, 951-697-5217, or email srazo@blm.gov.  
This year, we invite everyone to reimagine your public lands as we celebrate 75 years of the BLM's stewardship and service to the American people. The BLM manages approximately 245 million acres of public land located primarily in 12 Western states, including Alaska. The BLM also administers 700 million acres of sub-surface mineral estate throughout the nation. The agency's mission is to sustain the health, diversity, and productivity of America's public lands for the use and enjoyment of present and future generations. 
Organization
Bureau of Land Management, California
Office
California Desert District Office
Contacts
Related Content