BLM seeks public comment on US Gypsum Mine Expansion Project
BLM Office:
California Desert District Office
Region:
California
California Desert DO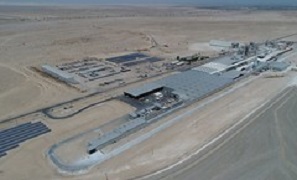 EL CENTRO, Calif. – The Bureau of Land Management is seeking public comment on a proposed expansion of the US Gypsum Mine and associated water lines in Imperial County. The proposed project supports the Administration's goals of strengthening local economies and creating local jobs.
The public is invited to an open house meeting on Wednesday, Aug. 7, from 4:30 to 7:30 p.m., at the Holiday Inn Express Hotel, 350 Smoketree Drive, El Centro, CA 92243. During the meeting, participants can learn more about the project, ask questions about the environmental analysis and decision process, discuss concerns, and provide written comments. Public comment on the draft supplemental EIS must be submitted to BLM by September 3.
The US Gypsum Company seeks approval of its plan of operations for the gypsum quarry in western Imperial County, and rights-of-way across public lands to replace an existing water supply line to its Plaster City Processing Plant. The proposal also seeks to construct a new water supply line and associated electrical service between its quarry and a new well. The project represents an investment of over $110 million, and would support 400 existing jobs and up to 140 new jobs over the life of the project.
The BLM is the lead Federal agency for the National Environmental Policy Act review. The U.S. Army Corps of Engineers and the U.S. Environmental Protection Agency are cooperating agencies in this review. The BLM will consider approving USG's Plan of Operations and granting rights-of-way across public lands for the water supply lines and associated electrical line. The USACE will determine whether to issue a permit under Section 404 of the Clean Water Act. 
The draft supplemental EIS, including the agency preferred alternative can be viewed on the BLM ePlanning website at: https://bit.ly/2QiGK0m. The public is encouraged to provide written comments via mail to: US Gypsum Mine Expansion Project, Bureau of Land Management, El Centro Field Office, 1661 S. 4th Street, El Centro, CA 92243; by email to blm_ca_us_gypsum@blm.gov or by fax to 760-337-4490.
Before including your address, phone number, email address, or any other personal identifying information in your comments, please be aware that your entire comment, including personal identifying information, may be made publicly available at any time. While individuals may request BLM to withhold personal identifying information from public view, the BLM cannot guarantee it will be able to do so.
For further information, please contact BLM project manager Miriam Liberatore at 541-618-2412, or by email at mliberat@blm.gov.
---
The BLM manages more than 245 million acres of public land located primarily in 12 western states, including Alaska, on behalf of the American people. The BLM also administers 700 million acres of sub-surface mineral estate throughout the nation. Our mission is to sustain the health, diversity, and productivity of America's public lands for the use and enjoyment of present and future generations.