BLM seeks public comment for the Panamint Valley Exploratory Drilling Project in Inyo County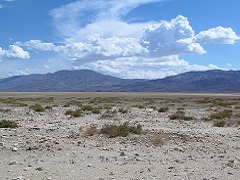 RIDGECREST, Calif. – The Bureau of Land Management, Ridgecrest Field Office, seeks public comments on the Environmental Assessment for the Panamint Valley Lithium Exploration Project, located in Inyo County, north of Trona. Public comments on this EA must be submitted to the BLM by April 15.
The drilling project will attempt to locate lithium, which is a critical mineral on the list of 35 Minerals Deemed Critical to U.S. National Security and the Economy.
The proposal by Battery Minerals Resources California Inc. seeks to drill one hole each at four exploration sites on mining claims adjacent to designated roads. Battery Minerals Resources Inc. plans to complete all activities within one year. Ground disturbance should total one acre or less.
The National Science and Technology Council Subcommittee on Critical and Strategic Mineral Supply Chains have identified lithium as a critical mineral. A "critical mineral" as defined by Presidential Executive Order 13817, issued by President Trump on December 20, 2017, is a mineral identified as essential to the economic and national security of the United States, the supply chain of which is vulnerable to disruption, and that serves an essential function in the manufacturing of a product, the absence of which would have significant consequences for the U.S. economy or national security.
The environmental assessment is available for review online through ePlanning, or by visiting the Ridgecrest Field Office, 300 S. Richmond Road, Ridgecrest, CA  93555. 
The public can also mail comments to the same address as listed above with ATTN: Randall Porter; email comments to rporter@blm.gov; or fax 760-384-5499.
---
The BLM manages more than 245 million acres of public land located primarily in 12 western states, including Alaska, on behalf of the American people. The BLM also administers 700 million acres of sub-surface mineral estate throughout the nation. Our mission is to sustain the health, diversity, and productivity of America's public lands for the use and enjoyment of present and future generations.
Organization
Bureau of Land Management
Office
Ridgecrest Field Office
Contacts
Related Content