The BLM seeks public comment on Eldorado-Lugo-Mojave project
BLM Office:
Barstow Field Office
Region:
California
California Desert DO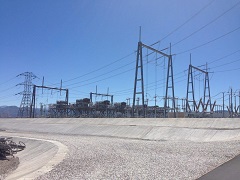 BARSTOW, Calif. – The Bureau of Land Management is seeking public comment on modifications and installation of telecommunications facilities within Southern California Edison's (SCE) existing rights-of-way (ROW), which crosses public lands within California and Nevada. Comments on the environmental assessment are due by May 18, 2020.
The assessment evaluates the environmental effects of SCE's Eldorado-Lugo-Mojave project in San Bernardino County, the City of Hesperia, and the unincorporated community of Lucerne Valley within California, as well as in Clark County, Boulder City, and the unincorporated communities of Searchlight and Laughlin, Nevada.
The proposed project would include the construction and installation of mid-line series capacitors, the installation of two dead-end towers, nine tower modifications and installation of telecommunications facilities within SCE's existing ROW.
The BLM is the lead federal agency with input from National Park Service and the Bureau of Reclamation as cooperating federal agencies. The BLM has prepared the Environmental Assessment, pursuant to the requirements of the National Environmental Policy Act, to analyze and describe the potential environmental impacts associated with the proposed action.  The BLM will decide whether to grant the requested amendments to the ROWs and if any conditions are applicable.
The Environmental Assessment and associated documents for the Southern California Edison's Eldorado-Lugo-Mojave Series Capacitor Project are available for review on ePlanning at https://bit.ly/39CaTQV.
The public is encouraged to provide substantive written comments by mail to SCE ELM Project, Bureau of Land Management, California Desert District Office, 22835 Calle San Juan de Los Lagos, Moreno Valley, CA 92553. All comments received will be considered and evaluated prior to issuing a final decision. 
Before including an address, phone number, email address, or other personal information in a comment, please be aware the entire comment, including the personally identifying information, may be made publicly available at any time.  While individuals may request personal information be withheld from public view, the BLM cannot guarantee the information will not be released.
For more information, including questions regarding additional accessibility options, please contact BLM Project Manager Joan Patrovsky at 760-252-6032, or via email at jpatrovs@blm.gov.
---
The BLM manages more than 245 million acres of public land located primarily in 12 western states, including Alaska, on behalf of the American people. The BLM also administers 700 million acres of sub-surface mineral estate throughout the nation. Our mission is to sustain the health, diversity, and productivity of America's public lands for the use and enjoyment of present and future generations.