BLM seeks public comment for the Camino Solar Project in Kern County
Organization
Bureau of Land Management
BLM Office:
Ridgecrest Field Office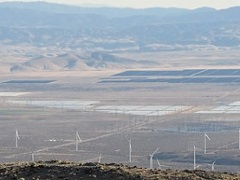 RIDGECREST, Calif. – The Bureau of Land Management (BLM), Ridgecrest Field Office, is seeking public comments on the Camino Solar Project located in the Antelope Valley, west of Rosamond in Kern County. 
Public comments on the project Environmental Assessment must be submitted to the BLM by March16. 
The project supports Secretarial Order 13783, which promotes energy independence and economic growth and would produce energy to power roughly 13,200 homes upon completion. 
The applicant, Aurora Solar LLC, seeks to develop a 44-megawatt photovoltaic solar facility on 383 acres of mixed ownership lands, 233 acres of which are BLM-managed lands within a Developed Focus Area. The project includes associated infrastructure including energy storage, a 34.5 kV underground electrical collector line, and access roads that would connect to the existing Manzana Wind substation, where transformers would increase the voltage from 34.5 kV to 220 kV. The energy would then be transferred to the Southern California Edison Whirlwind Substation using the existing Manzana Wind 220 kV generation-tie line.
The BLM is the lead federal agency for the National Environmental Policy Act review and Kern County is the lead agency for the California Environmental Quality Act review.
Members of the public may submit comments in writing to the Ridgecrest Field Office, ATTN:  Paul Rodriguez, 300 S. Richmond Road, Ridgecrest, CA 93555 or via email at blm_ca_camino_solar@blm.gov; or by fax at 760-384-5499.
The EA is available online through ePlanning, or by visiting the Ridgecrest Field Office located at 300 S. Richmond Road in Ridgecrest, CA 93555.  For questions, call Paul Rodriquez, Realty Specialist, at 760-384-5455.
---
The BLM manages more than 245 million acres of public land located primarily in 12 western states, including Alaska, on behalf of the American people. The BLM also administers 700 million acres of sub-surface mineral estate throughout the nation. Our mission is to sustain the health, diversity, and productivity of America's public lands for the use and enjoyment of present and future generations.