BLM seeks comments on draft plan for Haiwee Geothermal Leasing Project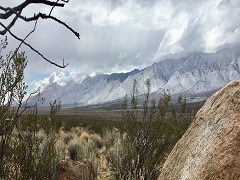 RIDGECREST, Calif. – The Bureau of Land Management is seeking public comments on a draft supplemental environmental impact statement for the proposed Haiwee Geothermal Leasing Project in Inyo County. The proposed billion-dollar project supports the Trump Administration's goals of achieving energy security, strengthening local economies and creating local jobs.
The plan analyzes the proposed leasing of BLM-managed public lands for geothermal exploration, development, and utilization. The total acreage being considered for geothermal leasing is approximately 22,805 acres. Additionally, the BLM is analyzing three pending geothermal lease applications on public lands within the Haiwee Geothermal Leasing Area.
If approved, the project would deliver power to approximately 117,000 homes, contribute $72 million annually during peak construction and $3 million annually during operations to the Inyo County community. The total project investment amounts to approximately $1 billion. The project would also create job opportunities by hiring 250 temporary and 65 permanent employees. 
Public comments on the draft supplemental EIS must be submitted to the BLM by Aug. 1, 2019.
The public is encouraged to provide comments via email: blm_ca_cd_haiwee_geothermal@blm.gov, by Internet through the link listed in the next paragraph; or by mail: Bureau of Land Management, California Desert District Office, Attn: Greg Miller, Assistant District Manager – Resources, 22835 Calle San Juan De Los Lagos, Moreno Valley, California 92553.
The draft supplemental EIS for the Haiwee Geothermal Leasing Area and the proposed amendment to the California Desert Conservation Area Plan can be viewed at: https://eplanning.blm.gov/epl-front-office/eplanning/planAndProjectSite.do?methodName=renderDefaultPlanOrProjectSite&projectId=68429&dctmId=0b0003e880da3745.  
Before including addresses, phone numbers, email addresses, or other personal identifying information in a comment, be aware that the entire comment—including personal identifying information—may be made publicly available at any time. While individuals may ask the BLM to withhold personal identifying information from public review, the BLM cannot guarantee that it will be able to do so.
This year, we invite everyone to reimagine your public lands as we celebrate 75 years of the BLM's stewardship and service to the American people. The BLM manages approximately 245 million acres of public land located primarily in 12 Western states, including Alaska. The BLM also administers 700 million acres of sub-surface mineral estate throughout the nation. The agency's mission is to sustain the health, diversity, and productivity of America's public lands for the use and enjoyment of present and future generations. 
Organization
Bureau of Land Management
Office
California Desert District Office
Contacts
Related Content