BLM Seeks Comment on Proposed Northwest Calif. Resource Management Plan
Organization
Bureau of Land Management
BLM Office:
Northern California District Office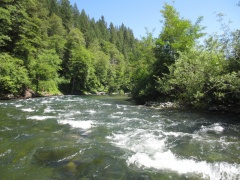 REDDING, Calif .-- The Bureau of Land Management is asking for public comments on issues that should be addressed as it begins developing  a Resource Management Plan and Environmental Impact Statement for public lands managed by the Redding and Arcata field offices.
The Northwest California Integrated Resource Management Plan (NCIP) will guide the agency in decision making on these public lands for the next 15 to 20 years. It affects about 400,000 acres of public land in Del Norte, Siskiyou, Shasta, Humboldt, Mendocino, Trinity, Tehama, and Butte counties.
The NCIP will replace the resource management plans that were put into place in the mid-1990s for both field offices.   It will incorporate current information on the status of the lands and resources managed by BLM.
The BLM will work closely with tribal partners, county governments, and local, state, and federal agencies in developing the new plan.
Comments must be in writing, and will be accepted until Feb. 3, 2017.  Comments may be hand delivered or mailed to the BLM Redding Field Office, 6640 Lockheed Dr., Redding, CA, 96002, or emailed to NCIP_comments@aecom.com. Written comments will also be accepted during the following public meetings.  All meetings are from 5 to 7 p.m.
Redding:  Monday, Jan. 9, Civic Center Community Room (Redding City Hall), 777 Cypress Ave.
Weaverville: Tuesday, Jan. 10, Veterans Memorial Hall, 103 Memorial Dr.
Eureka:  Wednesday, Jan. 11, Humboldt Bay Aquatic Center, 911 Waterfront Dr.
Garberville/Redway: Thursday, Jan. 12, Mateel Community Center, 54 Rusk Ln., Redway
Willits:  Tuesday, Jan. 17, Willits City Hall Community Center, 111 Commercial St.
Chico:  Wednesday, Jan. 18, Oxford Suites, 2035 Business Ln.
Yreka:  Thursday, Jan. 19, Miner's Inn, 122 E. Miner St.
The BLM will use public comments in drafting the EIS and proposed plan, which will be available for public review and comment.  A final plan will follow.  The process could take up to four years to complete.
The planning area includes a great diversity of lands ranging from north coast beaches and dunes to the Central Valley and Sacramento River, to the foothills of the Sierra Nevada Mountains.
BLM-managed lands provide a wide array of recreational opportunities including wilderness trails, hunting areas, off-highway riding areas, mountain bike trails, and scenic vistas. Public lands support a wide range of uses including mining, timber production, livestock grazing, and firewood collecting and provide habitat for fish and wildlife.
More information is available online at https://eplanning.blm.gov/epl-front-office/eplanning/planAndProjectSite.do?methodName=renderDefaultPlanOrProjectSite&projectId=63960&dctmId=0b0003e880bc935d.
Those with questions can contact Lisa Grudzinski at the BLM Redding Field Office, (530) 224-2140 or lgrudzinski@blm.gov; or David Fuller at the Arcata Field Office, (707) 825-2315 or dfuller@blm.gov.
 
---
The BLM manages more than 245 million acres of public land located primarily in 12 western states, including Alaska, on behalf of the American people. The BLM also administers 700 million acres of sub-surface mineral estate throughout the nation. Our mission is to sustain the health, diversity, and productivity of America's public lands for the use and enjoyment of present and future generations.