BLM to restrict public access to Bradshaw Trail and nearby lands during cleanup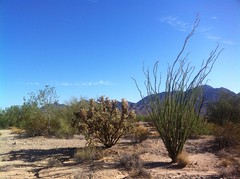 PALM SPRINGS, Calif. – The Bureau of Land Management will temporarily restrict public access to Bradshaw Trail and nearby lands, effective 12:01 a.m., Sept. 16, to 11:59 p.m., Sept. 27, and then 12:01 a.m., Jan. 6, 2020, to 11:59 p.m., Feb. 7, 2020, to ensure the Department of the Navy can safely perform environmental remediation.
For the public's safety, this restriction affects all forms of public entry, including dispersed camping or other recreational activities, on the approximately 630 acres of public lands north of the Bradshaw Trail, including the trail itself, a county maintained road in Riverside County.
The lands, once used by the U.S. Navy for training purposes, were a part of the Chocolate Mountain Aerial Gunnery Range. The U.S. Navy will be executing their response action plan to comply with public law that requires environmental remediation on public lands being relinquished and returned to the Department of the Interior. Once the environmental remediation is completed, the BLM will allow public access.
For more information about the public access restriction, contact the Palm Springs-South Coast Field Office, 760-833-7100.
This year, we invite everyone to reimagine your public lands as we celebrate 75 years of the BLM's stewardship and service to the American people. The BLM manages approximately 245 million acres of public land located primarily in 12 Western states, including Alaska. The BLM also administers 700 million acres of sub-surface mineral estate throughout the nation. The agency's mission is to sustain the health, diversity, and productivity of America's public lands for the use and enjoyment of present and future generations. 
Organization
Bureau of Land Management
Office
Palm Springs-South Coast Field Office
Contacts
Related Content