BLM releases West Mojave Route Network Project Record of Decision
Organization
Bureau of Land Management
BLM Office:
Barstow Field Office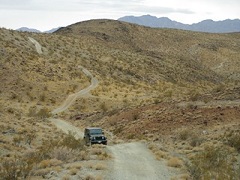 The Bureau of Land Management has released a Record of Decision (ROD) for the West Mojave Route Network Project (WMRNP), which amends the California Desert Conservation Area Plan and approves a travel and transportation route network with nine travel management plans. The approved project provides increased public access to recreation areas and points of interests, connectivity and consistency across jurisdictional boundaries.
The route network accesses approximately 3.1 million acres of BLM-managed public lands in the western portion of the Mojave Desert, including parts of San Bernardino, Los Angeles, Riverside, Kern and Inyo counties. It addresses the need for public, authorized and administrative access to and across BLM-managed lands, including motorized, non-motorized and non-mechanized modes of travel. The network also allows restoration to address use impacts and improve resource conditions. 
The entire planning area covers 9.4 million acres of the California Desert Conservation Area, which includes lands managed by federal, private and military entities. The BLM prepared the WMRNP ROD and Approved Land Use Plan Amendment (LUPA)/Final Supplemental Environment Impact Statement (FSEIS) pursuant to a U.S. District Court Order. 
The route network project supports Secretarial Order 3347, Conservation Stewardship and Outdoor Recreation (March 27, 2017), and Secretarial Order 3366, both of which direct BLM and other Interior bureaus to preserve and expand access to outdoor recreation on public lands. It also aligns with Secretarial Order 3356, which directs bureaus to support and expand hunting and fishing, enhance conservation stewardship, improve wildlife management, and increase outdoor recreation opportunities for all Americans.
The ROD and Approved LUPA/FSEIS are now available on ePlanning. The Director's Protest Summary Report containing Protest Resolution is now available on BLM's Protests Resolution Reports page. Any party adversely affected by the approved route designations may appeal within 30 days of publication of the Notice of Availability in the Federal Register pursuant to 43 CFR, part 4, subpart E. The appeal must be filed with the California Desert District Manager, 22835 Calle San Juan de Los Lagos, Moreno Valley, CA 92553. Please consult the appropriate regulations (43 CFR, part 4, subpart E) for further appeal requirements.  
Before including addresses, phone numbers, email addresses, or other personal identifying information in a comment, be aware that the entire comment—including personal identifying information—may be made publicly available at any time. While someone may ask the BLM to withhold personal identifying information from public review, the BLM cannot guarantee that it will be able to do so.
 
---
The BLM manages more than 245 million acres of public land located primarily in 12 western states, including Alaska, on behalf of the American people. The BLM also administers 700 million acres of sub-surface mineral estate throughout the nation. Our mission is to sustain the health, diversity, and productivity of America's public lands for the use and enjoyment of present and future generations.