BLM releases final environmental analysis for the West Mojave Route Network Project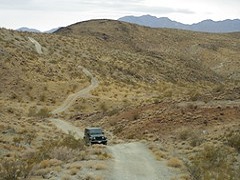 MORENO VALLEY, Calif. – In keeping with the Administration's effort to increase recreational access and to promote shared stewardship of public lands, the Bureau of Land Management (BLM) has released a Final Supplemental Environmental Impact Statement and Proposed Land Use Plan Amendment for the West Mojave Route Network Project (WMRNP).
The route network accesses approximately 3.1 million acres of BLM-managed public lands in the western portion of the Mojave Desert, including parts of San Bernardino, Los Angeles, Riverside, Kern, and Inyo counties. The entire planning area covers 9.4 million acres of the California Desert Conservation Area, which includes lands managed by federal, private and military entities. The BLM prepared the WMRNP Proposed Land Use Plan Amendment and Final Supplemental EIS to comply with a U.S. District Court Order.
The route network project provides increased access to recreation areas and points of interests, connectivity, and consistency across jurisdictional boundaries. It addresses the need for public, authorized and administrative access to and across BLM-managed lands, including motorized, non-motorized and non-mechanized modes of travel. It also eliminates parallel and redundant routes and allows restoration to address use impacts and improve resource conditions.
The route network project aligns with Secretarial Orders 3347, 3356 and 3366, increasing outdoor recreational opportunities, advancing conservation stewardship and restoring trust as a good neighbor through sound travel management of public lands.
The announcement in the Federal Register on the motorized route network designation and implementation strategy opens a 30-day protest period, which will run through May 28, 2019. The Final Supplemental EIS and Proposed Land Use Plan Amendment are now available on ePlanning at https://bit.ly/2Zz246b. To submit a protest electronically, go to the ePlanning project web page and follow the instructions at the top of the home page. Anyone who participated in the planning process for the West Mojave Route Network Project and who has an interest that is, or may be, adversely affected by the proposed land use plan amendment in the Final Supplemental EIS will have the opportunity to protest the proposed plan amendments. The California governor also has 60 days to review the proposed land use plan amendment for consistency with state and local laws and regulations.
All protests must be in writing and mailed to the appropriate address or submitted electronically through the BLM ePlanning project website. If submitting a protest in hard copy, it must be mailed to BLM Director (210), Attention: Protest Coordinator, WO-210, P.O. Box 71383, Washington, D.C. 20024-1383; or by overnight Delivery to: BLM Director (210), Attention: Protest Coordinator, WO-210, 20 M Street SE, Room 2134LM, Washington, D.C. 20003.
Before including addresses, phone numbers, email addresses, or other personal identifying information in a comment, be aware that the entire comment—including personal identifying information—may be made publicly available at any time. While individuals may ask the BLM to withhold personal identifying information from public review, the BLM cannot guarantee that it will be able to do so.
 
---
The BLM manages more than 245 million acres of public land located primarily in 12 western states, including Alaska, on behalf of the American people. The BLM also administers 700 million acres of sub-surface mineral estate throughout the nation. Our mission is to sustain the health, diversity, and productivity of America's public lands for the use and enjoyment of present and future generations.
Organization
Bureau of Land Management
Office
California Desert District Office
Contacts
Related Content