BLM plans prescribed burning projects on northeast California public lands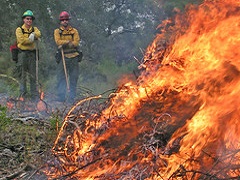 ALTURAS, Calif. – The Bureau of Land Management's Applegate Field Office will begin prescribed burning projects this week and continuing through the fall, winter and spring months on public lands in northeast California and far northwest Nevada. Burning will take place only when weather allows for safe and successful burning.
"All of these projects involve burning piles of brush and juniper," said Alan Bittner, manager of the BLM Northern California District. "We removed these fuels to reduce wildfire danger, to improve habitat for sage grouse and other wildlife, and to improve working landscapes that support domestic livestock."
Residents of Dorris, Tulelake, Day, Fall River Mills, Alturas, Madeline, and Cedarville, Calif., and Vya, Nev. may see smoke from these projects.
Projects include:
Modoc Gulch Piles: The project includes 800 piles built by hand crews and larger piles built with heavy equipment on public lands southeast of Dorris.
Vya Juniper Hand Piles: These burn projects are on northeast California and northwest Nevada on public lands north and east of Cedarville, Calif. Burn units are near 49 Mountain (50 acres), South Larkspur (130 acres) and Calcutta (150 acres).  There may be additional piling and burning in the Vya area as conditions allow.
Williams Ranch: The project includes 50 acres of hand piles west of Madeline.
Bryant Mountain/Bloody Point: The project east of Tulelake includes machine-piled juniper in an 850-acre project area.                               
Westside Project: Burning will involve piles in a 700-acre project area.
Timbered Crater. This small project includes piles in a project area under two acres in size east of Fall River Mills.
Thomas Creek: Crews will burn piles in a 100-acre area about 15 miles east of Alturas.
More information on upcoming prescribed burning is available by contacting the BLM Applegate Field Office in Alturas, at 530-233-4666.
This year, we invite everyone to reimagine your public lands as we celebrate 75 years of the BLM's stewardship and service to the American people. The BLM manages approximately 245 million acres of public land located primarily in 12 Western states, including Alaska. The BLM also administers 700 million acres of sub-surface mineral estate throughout the nation. The agency's mission is to sustain the health, diversity, and productivity of America's public lands for the use and enjoyment of present and future generations. 
Organization
Bureau of Land Management
Office
Applegate Field Office
Contacts
Related Content