BLM plans prescribed burning for fall, winter months in NE California
BLM Office:
Applegate Field Office
Region:
California
Northern California DO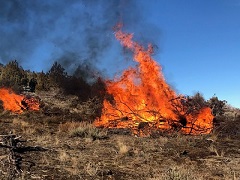 ALTURAS, Calif., -- The Bureau of Land Management's Applegate Field Office will conduct prescribed burning projects through the fall and winter months, as weather conditions and resource availability permit.  Pile burning and a broadcast burn will take place only when weather allows for safe and successful burning.
Pile burns will include vegetation piles built by hand, and much larger piles built by equipment such as bulldozers.  The brush, limbs and small trees are from juniper reduction projects. The broadcast burn will be a low-intensity, carefully managed fire within planned boundaries. 
"We have designed these projects to improve plant diversity and rangeland health, and to reduce the threat of catastrophic wildfire," said Craig Drake, manager of the BLM Applegate Field Office. "One broadcast burn  near Fort Bidwell will be part of a University of Utah research project to study the effect of fire on the yampa plant, an important traditional food for Native American tribes."
Residents in and around the northeast California communities of Alturas, Cedarville, Madeline, Likely, Fort Bidwell, Tulelake and Dorris may see smoke, as will people in the Vya area of northwest Nevada. The BLM expects smoke impacts to be minimal.
Project names, locations, and sizes are as follows:
Thomas Creek, 15 miles east of Alturas: 100 acres of hand-piled juniper.
Bryant Mountain/Bloody Point Machine Piles, east of Tulelake:  850 acres of machine-piled juniper.
Vya Hand Piles, various locations in northeast California and northwest Nevada, north and east of Cedarville:  Projects ranging from 250 acres to 2,000 acres areas of hand piles may be burned as conditions allow.
Modoc Gulch Piles, southeast of Dorris:  800 acres of machine-piled and hand-piled juniper.
Upper Tuledad Pile Burning, south and east of Alturas, along the Tuledad Road: 150 acres of machine piles and hand piles.
Ryegrass Swale, 15 miles south of Alturas:  422 acres of juniper piles.
Epos Broadcast, 10 miles East of Fort Bidwell: broadcast burning four acres of short grass as part of an ethnographic study plot in conjunction with Utah State University.
Information on burning projects is available by contacting the BLM Applegate Field Office, 530-233-4666.
---
The BLM manages more than 245 million acres of public land located primarily in 12 western states, including Alaska, on behalf of the American people. The BLM also administers 700 million acres of sub-surface mineral estate throughout the nation. Our mission is to sustain the health, diversity, and productivity of America's public lands for the use and enjoyment of present and future generations.