BLM opening campgrounds, recreation sites for spring and summer seasons
BLM Office:
Eagle Lake Field Office
Region:
California
Northern California DO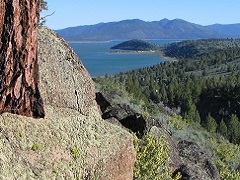 SUSANVILLE, Calif. – Campgrounds and recreation areas on Bureau of Land Management public lands in northeast California are now opening for the spring and summer recreation seasons.
"These recreation sites are in beautiful locations.  They provide great settings for families to enjoy their public lands," said Brian Novosak, manager of the BLM Eagle Lake Field Office in Susanville.
The Hobo Camp Day Use Area just west of Susanville is now open during daylight hours.  There is no fee.  Visitors enjoy good access to the Bizz Johnson National Recreation Trail, the Southside Trail, and to fishing and swimming areas in the Susan River.   To reach the area, take Richmond Road in Susanville south to the intersection with South Street, turn right, and follow signs.
The North Eagle Lake Campground near the junction of California Route 139 and Lassen County Route A1 will open May 18.  There are 20 developed campsites, including RV and trailer sites, available on a first-come, first-served basis. To get there from Susanville take Highway 139 North about 30 miles, turn left at County Route A1 and watch for the campground on the right.
The BLM also offers Eagle Lake shoreline camping at Rocky Point along Route 139.  The area is best suited for fully self-contained camping.  There is no fee. To get there from Susanville take Route 139 north about 30 miles.  Turn left on County Route A1 and continue about 10 miles to Lakeside Drive and turn left.  Continue to the end of the pavement and follow signs to Rocky Point.
Camping for off-road recreation enthusiasts is available at the Fort Sage Off Highway Vehicle Recreation near Doyle, Calif., at the Rice Canyon OHV area near Susanville, and at the Dry Valley OHV area east of Wendel, Calif.  Information is available by telephoning the Eagle Lake Field Office, 530-257-0456.
Information about camping and other recreation opportunities offered by the Eagle Lake Field Office is available online at https://www.blm.gov/office/eagle-lake-field-office.
---
The BLM manages more than 245 million acres of public land located primarily in 12 western states, including Alaska, on behalf of the American people. The BLM also administers 700 million acres of sub-surface mineral estate throughout the nation. Our mission is to sustain the health, diversity, and productivity of America's public lands for the use and enjoyment of present and future generations.