BLM to offer trained wild horses for public adoption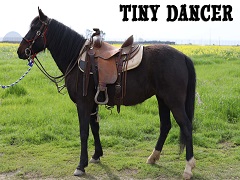 ELK GROVE, Calif. – The Bureau of Land Management, in partnership with the Sacramento County Sheriff's Department and Western States Horse Expo, will offer trained wild horses for adoption in placement events Sunday, May 12, in Rancho Murieta, and Saturday, May 18, in Elk Grove.
The horses have been trained by inmates in the Rio Cosumnes Correctional Center (R3C) horse training program, and by trainers participating in the Western States Horse Expo Equus Masters competition.
The May 12 event at the Murieta Equestrian Center, 7200 Lone Pine Dr., Rancho Murieta, will offer three saddle-trained horses from the inmate training program.  Additionally, four halter-trained horses from the Equus Masters event will be offered, along with two additional halter trained horses.  The auction and adoption event gets underway at 1:30 p.m. at the equestrian center's Freedom Arena.
Adopters can participate in a complimentary training clinic Sunday at 4 p.m. Joe Misner, manager of the R3C training program, will lead the clinic.
Information on the Equus Masters training competition is available from the Western States Horse Expo at https://horsexpo.com/equus-masters/.
On May 18, adopters can choose from seven inmate-trained saddle horses.  Events at the Rio Cosumnes Correctional Facility, 12500 Bruceville Rd., in Elk Grove begin at 9 a.m. with a preview and demonstrations.  A live auction will follow.
Horses are from public rangelands where wild populations have exceeded sustainable population levels.
Adopters must provide facilities and care specified by the BLM.  Adoption requirements are available online at https://www.blm.gov/programs/wild-horse-and-burro/adoption-and-sales.
---
The BLM manages more than 245 million acres of public land located primarily in 12 western states, including Alaska, on behalf of the American people. The BLM also administers 700 million acres of sub-surface mineral estate throughout the nation. Our mission is to sustain the health, diversity, and productivity of America's public lands for the use and enjoyment of present and future generations.
Organization
Bureau of Land Management
Office
Northern California District Office
Contacts
Related Content