BLM LWCF land acquisition to increase public access to South Cow Mountain OHV Management Area
BLM Office:
Ukiah Field Office
Region:
California
Northern California DO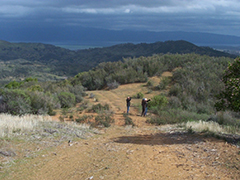 UKIAH, Calif. – The Bureau of Land Management Ukiah Field Office and our partners are celebrating the recent acquisition of the Blue Oak Ranch, which will provide greater public access for staging and camping for the South Cow Mountain OHV Management Area. The nearly 1,400-acre Blue Oak Ranch is located along State Route 175 near Lakeport in Lake County and was purchased with funding from the Land and Water Conservation Fund and the California State Park Off-Highway Motor Vehicle Recreation Division Grants Program.
The South Cow Mountain OHV Management Area encompasses approximately 23,000 acres of public land in the Mayacamas Mountains that has more than 90 miles of designated roads and trails ranging from easy to extremely difficult and the recommended vehicle type depending on the width of the trail appropriate for motorcycles, OHVs and 4-wheel drive vehicles.
"This acquisition will allow the BLM to protect and conserve the area for cultural and environmental resources, sustain and enhance current use at the South Cow Mountain, and allow for paved access to future camping, staging and trail opportunities," says Ryan Cooper, acting BLM Ukiah Field Manager. "This acquisition would not have happened without the strong collaboration between the ranch owner, recreation community, California State Parks and the BLM."
The additional staging and camping area will enhance existing facilities. Currently there are two developed OHV staging areas within South Cow Mountain with graveled access roads accessible by two-wheel drive vehicles. Access roads into these areas are narrow and winding. Travel trailers and large recreational vehicles are not recommended.
Don Amador, government affairs lead for AMA District 36, states, "Acquisition of the Blue Oak Ranch is a significant milestone in the history of the South Cow Mountain OHV Area in that it will provide much needed camping and staging opportunities with easy public access from a paved road.  I know the OHV community appreciates the agency's effort over the last 4-5 years to purchase this property from a willing seller who wanted to see it used for both casual trail use and permitted events. The BLM, land owner, CA OHV Grant Program and the many other partners it took to make this happen can be proud of this historic moment as they continue efforts to provide sustainable high-quality OHV recreation at South Cow Mountain for current and future generations."
The area offers beautiful views of Ukiah and Lake County; pockets of old-growth fir; several species of oak; willows; over 31 miles of stream; 13 reservoirs; and habitat for blacktail deer, bear, wild turkey and other upland species. To learn more about the South Cow Mountain OHV Management Area visit:  www.blm.gov/visit/search-details/10004875/2.
---
The BLM manages more than 245 million acres of public land located primarily in 12 western states, including Alaska, on behalf of the American people. The BLM also administers 700 million acres of sub-surface mineral estate throughout the nation. Our mission is to sustain the health, diversity, and productivity of America's public lands for the use and enjoyment of present and future generations.