BLM invites public to discuss Black Canyon Corridor Travel Management Plan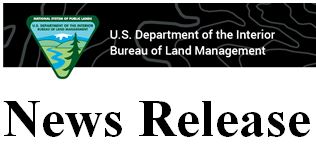 PHOENIX – The Bureau of Land Management (BLM), Hassayampa Field Office invites the public's participation in the development of the Black Canyon Corridor Travel Management Plan and Environmental Assessment (TMP/EA). Two public meetings will be held on May 15th and May 16th.   
The TMP/EA includes the Upper Agua Fria River, Bumble Bee and Lower Black Canyon areas and encompasses the communities of Black Canyon City, Mayer, New River and Dewey-Humboldt in Yavapai and Maricopa counties.  The Black Canyon National Recreation Trail is central to this area.
The first meeting will be held May 15, from 6 p.m. to 8 p.m. at the Deer Valley Community Center located at 2001 W. Wahalla Ln., in Phoenix.
The second meeting will be held May 16, from 6 p.m. to 8 p.m. at Mayer High School located at 17300 E. Mule Deer Dr., in Spring Valley, Arizona.
During the two open house-style meetings, maps of the current and potential travel network will be available for review and BLM staff will be available to answer questions and receive comments.  At this early stage of the process, public input will assist the BLM in the development of the draft TMP/EA.
Travel management is an approach to establishing networks of roads for travel and transportation including areas for both motorized and non-motorized uses.  Travel management planning is necessary for designating and providing appropriate access to and across public lands for a variety of uses. 
The public scoping period will close on June 6, 2017.
Stakeholders are encouraged to submit their comments for the record through the BLM online land use planning tool, ePlanning, at the following Internet address: http://bit.ly/2qKPLVW. Written comments may be mailed to Outdoor Recreation Planner Tammy Pike at the Hassayampa Field Office, 21605 N. 7th Ave., Phoenix, Arizona 85027, faxed to (623) 580-5580, or emailed to blkcanyon@blm.gov.
Black Canyon Corridor TMP Website: http://bit.ly/2oMhl0C.
If you have questions, please contact Tammy Pike at (623) 580-5586 or blkcanyon@blm.gov. 
# # #
This year, we invite everyone to reimagine your public lands as we celebrate 75 years of the BLM's stewardship and service to the American people. The BLM manages approximately 245 million acres of public land located primarily in 12 Western states, including Alaska. The BLM also administers 700 million acres of sub-surface mineral estate throughout the nation. The agency's mission is to sustain the health, diversity, and productivity of America's public lands for the use and enjoyment of present and future generations. 
Organization
Bureau of Land Management
Office
Phoenix District Office
Contacts