BLM initiates seasonal fire and target shooting restrictions in the California Desert District
BLM Office:
California Desert District Office
Region:
California
California Desert DO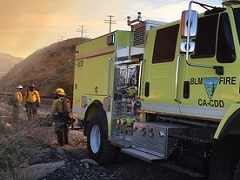 MORENO VALLEY, Calif. – The Bureau of Land Management has elevated its seasonal fire restrictions effective immediately for BLM-managed public lands managed by the California Desert District within Los Angeles, Orange, San Bernardino, Riverside, Imperial, southern Inyo, eastern Mono, San Diego, and eastern Kern counties. These restrictions will remain in effect until December 15, unless terminated sooner if conditions warrant.
"With increasing temperatures and decreasing humidity, restrictions are necessary, and we ask for your cooperation to help minimize fire potential," said California Desert District Manager Andrew Archuleta.  "Without proactive measures in place, dry grass and brush could easily ignite, causing a wildfire threatening public land visitors, communities, adjacent private lands and natural resources."
The seasonal Fire Prevention Order places in effect stage II and III fire restrictions for the California Desert District, as shown on the online map.  The elevated restrictions address the use of campfires, controlled flame devices and smoking on public lands. 
The order also prohibits recreational shooting on BLM-managed public lands within San Diego, eastern Kern, western Riverside, western San Bernardino and eastern Los Angeles counties as shown on the map and described in the order.  The recreational shooting restrictions prohibits possession or use of any steel jacketed or steel core ammunition of any caliber. This includes handgun, rifle and shotgun ammunition, unless a person is in possession of a valid California hunting license and is actively engaged in the legal take or pursuit of game and non-game species in accordance with current California hunting regulations.
The actions prohibited by this seasonal Fire Prevention Order are in addition to acts already outlined in the statewide Fire Prevention Order, which provides year-round campfire permit requirement, maintaining a five-foot diameter clearance around campfires, and guidance for extinguishing campfires on BLM-managed public lands in California.
Specific descriptions of stage II and III seasonal fire restrictions and recreational shooting restrictions, a map showing each of these areas, and the statewide Fire Prevention Order are available at https://www.blm.gov/programs/public-safety-and-fire/fire-and-aviation/regional-info/california/fire-restrictions.
"On average, human-caused wildfires make up 95 percent of all wildfire occurrences annually here in California," said BLM California Desert District Fire Management Officer Paul Gibbs. "Many of these wildfires occur close to roadways, communities and recreational areas, posing considerable threat to public safety."   These stage II and III and recreational shooting restrictions, based on weather and vegetation conditions, are designed to help minimize the risk of human-caused wildfires in the California Desert District.
The public is reminded to follow these precautions:
Make sure to have a five-foot circle cleared around a campfire.
Be sure to have a shovel and plenty of water on hand and put the fire DEAD OUT, before leaving. 
Do not use steel targets for recreational shooting as they are more likely to cause a fire.
Park motor vehicles away from locations where exhaust could cause grass or other combustibles to ignite.
Violation of this order is punishable by a fine up to $100,000 or imprisonment of up to 12 months, or both.
The public can find additional information about wildfire on CAL FIRE's website at http://www.readyforwildfire.org/One-Less-Spark-Campaign/.
For more information about wildfire prevention from the BLM, please contact the California Desert District Office 951-697-5200; Barstow Field Office, 760-252-6000; El Centro Field Office, 760-337-4400; Needles Field Office, 760-326-7000; Palm Springs-South Coast Field Office, 760-833-7100; or Ridgecrest Field Office, 760-384-5400.
---
The BLM manages more than 245 million acres of public land located primarily in 12 western states, including Alaska, on behalf of the American people. The BLM also administers 700 million acres of sub-surface mineral estate throughout the nation. Our mission is to sustain the health, diversity, and productivity of America's public lands for the use and enjoyment of present and future generations.