BLM to host Cotoni-Coast Dairies public access workshops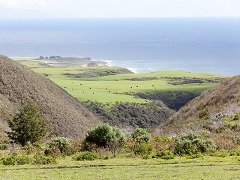 MARINA, Calif. – The Bureau of Land Management Central Coast Field Office will host two public workshops to explore recreational access opportunities at the Cotoni-Coast Dairies unit of the California Coastal National Monument in Santa Cruz County.
The content and activities will be the same at both workshops:
    Tuesday, Dec. 4, from 5 to 7 pm
     Louden Nelson Community Center
     301 Center Street
     Santa Cruz, CA

     Thursday, Dec. 13, from 5 to 7 pm
     Bonny Doon Elementary School
     1492 Pine Flat Road
     Santa Cruz, CA
The Cotoni-Coast Dairies property was donated to the BLM in 2014 and encompasses nearly 6,000 acres along Santa Cruz County's North Coast. Access to the property is limited to guided tours currently. These workshops will provide an opportunity for the BLM to share information and gather feedback on options to expand access to the property.
The Cotoni-Coast Dairies extends along the Pacific Coast Highway near Davenport. This property is marked by six forested perennial streams that flow from the Santa Cruz Mountains into the Pacific Ocean: Molino Creek, Agua Puerca Creek, San Vicente Creek, Liddell Creek, Yellow Bank Creek and Laguna Creek. Between these riparian drainages are broad marine terraces used for livestock grazing. The property supports a wide variety of habitats and wildlife, including coho salmon, steelhead trout, California red-legged frog, mule deer and mountain lions.
The BLM is committed to keeping public landscapes healthy and productive, while providing opportunities for outdoor recreation. For further information about the Cotoni-Coast Dairies workshops or recreation opportunities within the Central Coast region, please contact Mike Powers at 831-582-2200, or BLM_CA_Web_CC@blm.gov. The BLM is asking participants who wish to attend the workshops to RSVP at https://goo.gl/forms/y3MHEoXVO1Pm9zKA3. Please contact us for reasonable accommodations to participate.
---
The BLM manages more than 245 million acres of public land located primarily in 12 western states, including Alaska, on behalf of the American people. The BLM also administers 700 million acres of sub-surface mineral estate throughout the nation. Our mission is to sustain the health, diversity, and productivity of America's public lands for the use and enjoyment of present and future generations.
Organization
Bureau of Land Management, California
Office
Central Coast Field Office
Contacts
Related Content
Attachments