BLM to hold Dumont Dunes Off-Highway Vehicle recreation area public meeting
BLM Office:
Barstow Field Office
Region:
California
California Desert DO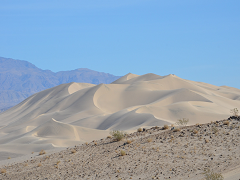 The Bureau of Land Management is hosting a public meeting from 10 a.m. to noon, September 17, at the Barstow Field Office, 2601 Barstow Road, Barstow, CA. 
The BLM will be presenting information concerning the management of the Dumont Dunes Off-Highway Vehicle (OHV) Recreation Area for the upcoming OHV season and seeking public comment on proposed implementation actions. Discussions will include dates for the five holidays, road maintenance and signs, and visitor center dates, hours and activities.
For more information about this public meeting, contact Katrina Symons, Barstow Field Manager, at 760-252-6004. 
 
---
The BLM manages more than 245 million acres of public land located primarily in 12 western states, including Alaska, on behalf of the American people. The BLM also administers 700 million acres of sub-surface mineral estate throughout the nation. Our mission is to sustain the health, diversity, and productivity of America's public lands for the use and enjoyment of present and future generations.