BLM Eagle Lake Field Office completes improvements at OHV recreation areas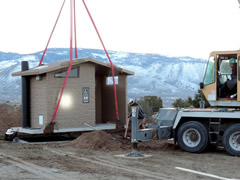 SUSANVILLE, Calif. – Just in time for the spring riding season, the Bureau of Land Management Eagle Lake Field Office has completed the latest in a series of improvements at off-highway vehicle recreation areas in northeast California and far northwest Nevada.
Crews have installed new vault toilets at the Fort Sage, Dry Valley and Rice Canyon recreation sites, adding to new amenities, including picnic sites, informational kiosks, and improved loading and unloading areas at each of the recreation sites. The BLM used last year's grant funds from California State Parks Off Highway Motor Vehicle Recreation Division and federal funds to complete the latest round of improvements.
"We are happy to be continually improving these areas to make them more pleasant and convenient for those who use motorcycles and all terrain vehicles to enjoy the public lands," said Marisa Williams, outdoor recreation planner, BLM Eagle Lake Field Office.
At the Fort Sage Area near Doyle, riders will find more than 100 miles of trails suitable for all riding abilities, while the Dry Valley Area off Sand Pass Road east of Susanville offers about 130 miles of roads and trails.  Camping is allowed at both sites.  Closer to Susanville, the Rice Canyon recreation site has 120 acres of open riding areas.  Rice Canyon has a beginner track ideal for youngsters and those new to OHV riding. There are no fees at these areas.
More information on these sites and other opportunities for off-highway vehicle recreation is available by telephoning Williams at 530-252-5303.
---
The BLM manages more than 245 million acres of public land located primarily in 12 western states, including Alaska, on behalf of the American people. The BLM also administers 700 million acres of sub-surface mineral estate throughout the nation. Our mission is to sustain the health, diversity, and productivity of America's public lands for the use and enjoyment of present and future generations.
Organization
Bureau of Land Management, California
District/Field Office
Eagle Lake Field Office
Contact
Related Content