BLM Central Coast Field Office lifts emergency fire restrictions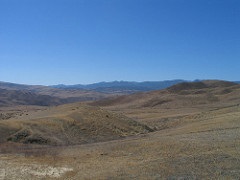 MARINA, Calif. – The Bureau of Land Management Central Coast Field Office is lifting its emergency fire restrictions on Nov. 30, on approximately 300,000-acres of public land, due to reduced wildland fire potential. This action also reopens target shooting at Panoche, Tumey and Griswold hills, as well as on public lands from the Pacific Coast to the San Joaquin Valley. 
The easing of fire restrictions apply to public lands managed by the Central Coast Field Office in Alameda, Contra Costa, Fresno, Merced, Monterey, San Benito, San Joaquin, San Mateo, Santa Clara, Santa Cruz and Stanislaus counties. Fire restrictions were initiated on May 25.
The public is reminded to remain cautious when recreating on public lands to prevent a wildfire. For more information, visit readyforwildfire.org/Prevent-Wildfire. Safety tips include not driving a vehicle onto dry grass or brush; carrying a fire extinguisher, shovel and bucket of water; and getting a permit for any campfire or use of portable gas stoves. Campfires and target shooting are always prohibited at Fort Ord National Monument due to munitions hazards and public safety. California campfire permits are available for free at all BLM, CAL FIRE and Forest Service offices and online at www.preventwildfireca.org/Permits. 
Outdoor enthusiasts are reminded that hot bullet fragments and exploding targets can spark a wildfire. Tracer round ammunition and incendiary devices are not allowed on BLM-managed public lands. Consider using paper targets to eliminate sparks. Gun enthusiasts are required to pack out all spent shells, brass and targets. Individuals who spark wildfires, intentionally or unintentionally, can be held responsible for fire suppression and repair costs. 
The BLM strives to be a good neighbor in the communities it serves. Public land provides opportunities for economic growth with space for traditional uses such as ranching, recreation, energy development, and cultural programs, as well as protection of threatened and endangered species. For more information, please call the Central Coast Field Office at 831-582-2200.
---
The BLM manages more than 245 million acres of public land located primarily in 12 western states, including Alaska, on behalf of the American people. The BLM also administers 700 million acres of sub-surface mineral estate throughout the nation. Our mission is to sustain the health, diversity, and productivity of America's public lands for the use and enjoyment of present and future generations.
Organization
Bureau of Land Management, California
Office
Central Coast Field Office
Contacts
Related Content