BLM Central Coast Field Office Allows Target Shooting Starting Nov. 13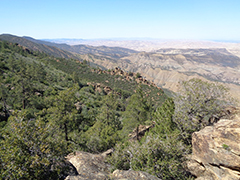 MARINA, Calif. — Public lands managed by the Bureau of Land Management (BLM) on California's Central Coast are once again open for responsible recreational target shooting. Effective Nov. 13, the BLM is rescinding the temporary suspension of recreational target shooting for public lands managed by the Central Coast Field Office. This action is in response to cooler temperatures and higher humidity, and it coincides with the reopening of Panoche and Tumey Hills recreation areas to vehicle access.
"As we welcome target shooters, hunters, campers and others to enjoy recreational opportunities on their public lands, we ask visitors to be prepared and exercise caution," said Ben Blom Central Coast Field Office Manager. "On average, 95 percent of wildland fires in California are human-caused. Please recreate responsibly and be safe out there."
Good fire-prevention safety tips include not driving a vehicle onto dry grass or brush; carrying a fire extinguisher, shovel and bucket of water; and getting a permit for any campfire or use of portable gas stoves. To learn more about campfire and target shooting safety, visit ReadyForWildfire.org.
Some seasonal fire restrictions will remain in place until further notice and are in addition to the year-round statewide Fire Prevention Order issued on April 28. Find a listing of fire restrictions throughout BLM California.
The Central Coast Fire Prevention Order continues to include the following prohibitions:
No campfires, except within approved fire pits and grills in developed recreation sites with a valid California campfire permit. Portable stoves with gas, jellied petroleum, or pressurized liquid fuel are allowed with a valid California campfire permit.
No smoking, except in a vehicle, camp trailer, or an area free of flammable materials in a designated developed campground.
No operating or using any internal combustion engine (e.g., chainsaws, generators, ATVs) off BLM designated roads and trails. All internal combustion engines, except for registered street legal vehicles, must be equipped with a properly installed and maintained spark arresting device.
During Red Flag Warnings or Fire Weather Watches, as determined by the National Weather Service, all recreational shooting will be temporarily suspended to reduce the potential of unintended wildland fire ignitions.
Anyone found guilty of violating a fire prevention order may be fined up to $100,000 and/or imprisoned for up to 12 months. Restitution for total fire suppression and damage costs incurred may be borne by the trespasser.
California campfire permits are available free at BLM, U.S. Forest Service and CAL FIRE offices, or at ReadyForWildfire.org. Be advised, some BLM lobbies and public rooms are closed to in-person visits. For more information, please contact the Central Coast Field Office at 831-582-2200.
---
The BLM manages more than 245 million acres of public land located primarily in the 11 Western states and Alaska. The BLM also administers 700 million acres of sub-surface mineral estate throughout the nation. In fiscal year 2018, the diverse activities authorized on BLM-managed lands generated $105 billion in economic output across the country. This economic activity supported 471,000 jobs and contributed substantial revenue to the U.S. Treasury and state governments, mostly through royalties on minerals.
Organization
Bureau of Land Management
Office
Central Coast Field Office
Contacts
Related Content