BLM authorizes Lugo-Victorville project to upgrade telecommunications facilities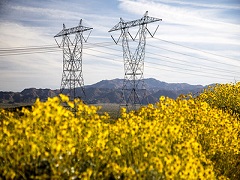 Barstow, Calif. – Today, the Bureau of Land Management approved the Southern California Edison Lugo-Victorville Remedial Action Scheme (LVRAS) project allowing for the installation of telecommunications facilities within three Southern California Edison rights-of-way that cross public lands in California and Nevada.
The decision approves the installation of 85 miles of new telecommunications fiber optic cable between the Pisgah Substation in San Bernardino County, California, and the Eldorado Substation in Clark County, Nevada. The project will enhance interstate telecommunications connections and integrate multiple generation facilities.
This decision supports Executive Order 13807 and Secretarial Order 3355, which prioritizes infrastructure projects and streamlines the environmental review process. The decision also supports Executive Order 13212, which mandates that agencies act expediently to increase the production and transmission of energy in a safe and environmentally sound manner consistent with applicable laws.
Pursuant to the requirements of the National Environmental Policy Act, the BLM, with input from the National Park Service, prepared the Environmental Assessment to analyze and describe the potential environmental impacts associated with the LVRAS project. The NPS will issue a special use permit allowing the transmission line enhancements within the Mojave National Preserve near the city of Baker, CA. 
Public comments on the EA closed on March 30, 2020. The Decision Record, EA and associated documents are available on the BLM's ePlanning site at: https://bit.ly/37kA1db.
For more information, including questions regarding additional accessibility options, or to make an appointment to review project documents, contact BLM Project Manager Joan Patrovsky at 760-252-6032, or via email at jpatrovs@blm.gov.
---
The BLM manages more than 245 million acres of public land located primarily in 12 western states, including Alaska, on behalf of the American people. The BLM also administers 700 million acres of sub-surface mineral estate throughout the nation. Our mission is to sustain the health, diversity, and productivity of America's public lands for the use and enjoyment of present and future generations.
Organization
Bureau of Land Management
Office
Barstow Field Office
Contacts
Related Content