BLM approves El Dorado-Lugo-Mojave Capacitor Project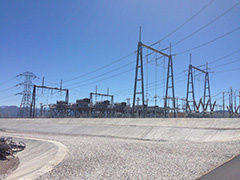 BARSTOW, Calif. - The Bureau of Land Management approved the Southern California Edison's El Dorado-Lugo-Mojave (ELM) Capacitor Project which amends their existing rights-of-way, on public lands in California and Nevada. 
The Decision Record and Finding of No Significant Impact released today authorizes the installation of electric and telecommunication facilities, installation of fiber optic repeater facilities and optical ground wire along 232 miles of 500 kilovolt transmission line. In addition, it provides for the construction of two new series capacitors at the Pisgah substation to increase the transmission capacity and the stability of the line.
"This decision supports the administration's focus on prioritizing infrastructure projects and streamlining the environmental review process," said BLM Barstow Field Manager Katrina Symons.  "It is projects like these that increase the production and transmission of energy in a safe and environmentally sound manner."  
Public comments on the Environmental Assessment and plan modification closed on May 18, 2020. The Decision Record, Environmental Assessment, and associated documents are available on the BLM's ePlanning site at: https://go.usa.gov/xfaQw. Documents are also available for public review by appointment at the Barstow Field Office, located at 2601 Barstow Road, Barstow, CA. For more information, including questions regarding additional accessibility options, please contact BLM Project Manager Joan Patrovsky at 760-252-6032, or via email at jpatrovs@blm.gov.
---
The BLM manages more than 245 million acres of public land located primarily in 12 western states, including Alaska, on behalf of the American people. The BLM also administers 700 million acres of sub-surface mineral estate throughout the nation. Our mission is to sustain the health, diversity, and productivity of America's public lands for the use and enjoyment of present and future generations.
Organization
Bureau of Land Management
Office
Barstow Field Office
Contacts
Related Content