BLM approves Desert Quartzite Solar Project in Riverside County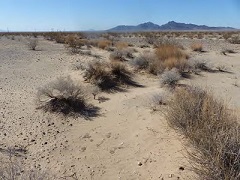 PALM SPRINGS, Calif. – The Bureau of Land Management approved the Desert Quartzite Solar Project in eastern Riverside County. The Record of Decision authorizes Desert Quartzite, LLC, a wholly owned subsidiary of First Solar, to construct, operate, maintain and decommission a 450-megawatt solar photovoltaic project on approximately 3,000 acres of public lands.
The Desert Quartzite Solar Project advances the Department of the Interior's America First Energy Plan, an "all of the above" strategy that supports energy development on public lands, improving infrastructure and creating jobs in local economies. The project also supports Executive Order 13783, Promoting Energy Independence and Economic Growth; and Secretary's Order 3349, American Energy Independence.
"The Department of the Interior supports moving forward with the Desert Quartzite solar project and other projects that help strengthen communities and promote energy independence. Responsible domestic energy production on Federal lands remains fundamental to our nation's security," said Acting Assistant Secretary of Land and Minerals Management Casey Hammond.
The project will result in a private infrastructure investment of $1 billion, with $3 million in annual operational economic benefit, power about 117,000 homes and provide up to about $2.7 million in annual rent and fees to the U.S. Treasury. It will generate up to 870 jobs at peak construction.
The BLM is authorizing construction of a main generation area, on-site substation, switchyard, site security, a 230 kV generation-tie line, and an operations and maintenance facility. Construction is expected to take up to 30 months, with anticipated operation by 2022.
Information about the project and the selected alternative is available online at https://bit.ly/37653WQ. This decision amends the California Desert Conservation Area Land Use Plan and approves the Right-of-Way Authorization for the project. For further information, please email: blm_ca_desert_quartzite_solar_project@blm.gov.
---
The BLM manages more than 245 million acres of public land located primarily in 12 western states, including Alaska, on behalf of the American people. The BLM also administers 700 million acres of sub-surface mineral estate throughout the nation. Our mission is to sustain the health, diversity, and productivity of America's public lands for the use and enjoyment of present and future generations.
Organization
Bureau of Land Management
Office
Palm Springs-South Coast Field Office
Contacts
Related Content