The BLM approves Castle Mountain Mine Plan modification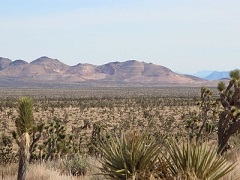 NEEDLES, Calif. – The Bureau of Land Management has approved Castle Mountain Venture's (CMV) modification to their plan of operations. The Decision Record and Finding of No Significant Impact released today authorizes the construction of five new monitoring wells and expansion of the project footprint.  
The site, located in San Bernardino County, is a 1,375-acre open pit gold mine approved in 1990 and expanded in 1998. The mine has not produced gold since 2004, when the cost to mine gold exceeded the commercial value. The mine's plan of operations envisions mining activity taking place for 16 years and is projected to employ 228 workers at the peak of production.  
Public comments on the Environmental Assessment and plan modification closed on January 13, 2020.  The Decision Record, Environmental Assessment, and associated documents are available on the BLM's ePlanning site at: http://bit.ly/2SZfy9Y. The documents are also available for public review at the Needles Field Office, located at 1303 South Highway 95, in Needles, California.  
 
---
The BLM manages more than 245 million acres of public land located primarily in 12 western states, including Alaska, on behalf of the American people. The BLM also administers 700 million acres of sub-surface mineral estate throughout the nation. Our mission is to sustain the health, diversity, and productivity of America's public lands for the use and enjoyment of present and future generations.
Organization
Bureau of Land Management
Office
California Desert District Office
Contacts
Related Content