BLM announces fire restrictions for NE California, NW Nevada public lands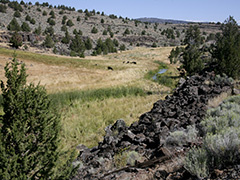 SUSANVILLE, Calif. – The Bureau of Land Management will implement fire restrictions for public lands managed by the Eagle Lake and Applegate field offices in Lassen, Modoc, Plumas, Sierra, Shasta and Siskiyou counties in California and in Washoe County, Nevada. The restrictions go into effect Saturday, Aug. 1, and will remain in effect until further notice. These seasonal restrictions are in addition to the year-round statewide fire prevention order issued on April 28.
"These seasonal restrictions are important for protecting public lands and nearby communities from wildfire," said BLM Associate District Manager Dereck Wilson. "Dry forests, grass and brush, combined with high temperatures and windy afternoons have significantly increased fire danger. We need to minimize the potential for fire starts."
The fire restrictions prohibit all campfires and use of barbecues. Portable stoves and lanterns using gas, jellied petroleum or pressurized liquid fuel are allowed. Users must have a valid California campfire permit. Visitors should be extremely careful with their use. Wildland visitors should carry shovels, water and fire extinguishers.
Campfire permits are available free at all BLM, CAL FIRE and Forest Service Offices and online at http://www.preventwildfireca.org/Campfire-Permit/.
Other restrictions include:
No smoking, except within an enclosed vehicle or building, or at a designated, developed recreation site, or other designated area.
No motor vehicles or internal combustion engines off established roads or trails. Chainsaws equipped with spark arresters may be used until 1 p.m. daily.
No possession or use of fireworks, including California fire marshal-approved "safe and sane" devices.
Target shooters may not use incendiary, tracer, steel core, armor-piercing, exploding or incendiary ammunition, or targets made of material that could explode or emit sparks.
  
For more information, telephone the Eagle Lake Field Office in Susanville at 530-257-0456, the Applegate Field Office in Alturas at 530-233-4666 or the Surprise Field Station in Cedarville at 530- 279-6101.
BLM officials noted that violations of fire restrictions are punishable by a fine up to $100,000 or up to 12 months in jail, or both. Restitution for total fire suppression and damage costs incurred may be borne by the trespasser.
    
Information on fire restrictions across public lands in California is available online at https://www.blm.gov/programs/public-safety-and-fire/fire-and-aviation/regional-info/california/fire-restrictions.
More information on preventing wildland fires is available at www.readyforwildfire.org.
Fire restrictions are also in place for neighboring BLM-managed public lands in northern California and Nevada and neighboring national forests. Visitors should check on fire restrictions in areas they plan to visit.  
---
The BLM manages more than 245 million acres of public land located primarily in 12 western states, including Alaska, on behalf of the American people. The BLM also administers 700 million acres of sub-surface mineral estate throughout the nation. Our mission is to sustain the health, diversity, and productivity of America's public lands for the use and enjoyment of present and future generations.
Organization
Bureau of Land Management
Office
Northern California District Office
Contacts
Related Content