BLM announces availability of draft supplemental environmental analysis for the West Mojave Route Network Project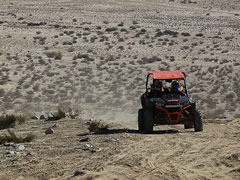 MORENO VALLEY, Calif. - The Bureau of Land Management has made available for public review a draft Supplemental Environmental Impact Statement and draft Land Use Plan Amendment that aim to manage dispersed recreation visitation over an extensive area in the Mojave Desert. The draft Supplemental Environmental Impact Statement evaluates existing routes in the planning area and proposes a comprehensive route network that balances access with the protection of sensitive resources. Today's announcement commences a 90-day public comment period.
The draft Supplemental Environmental Impact Statement for the West Mojave Route Network Project addresses proposed solutions for adaptive and responsible travel management planning and recreational use- including off-highway vehicle access- within the West Mojave planning area. A major component of the draft supplemental environmental analysis includes a complete inventory of travel routes within the Western Mojave planning area. Through this inventory, the BLM, in coordination with the public, has developed the most accurate and comprehensive route inventory of the planning area to date, providing a new baseline for BLM management of travel within the planning area. The draft supplemental environmental analysis also analyzes impacts from livestock grazing and sets parameters for grazing within the planning area.
The BLM invites members of the public to attend open houses from 5:00-7:00 p.m. at the following dates and locations:
April 17 - Victorville - Hilton Garden Inn, 12603 Mariposa Rd, Victorville, CA 92395
April 18 - Ridgecrest - Kerr McGee Center, 100 W. California Ave. Ridgecrest, CA 93555
April 24 - Lone Pine - Statham Hall (Lone Pine Senior Center), 138 N. Jackson St., Lone Pine, CA 93545
April 25 - Joshua Tree - Joshua Tree Community Center,  6171 Sunburst St, Joshua Tree, CA 92252
Public comments may be submitted by email to blm_ca_wemo_project@blm.gov; or by fax with Attn: WMRNP Plan Amendment to 951-697-5299; or by mail to Bureau of Land Management, California Desert District, Attn: WMRNP Plan Amendment, 22835 Calle San Juan de Los Lagos, Moreno Valley, CA 92553.  The Draft Land Use Plan Amendment/Draft SEIS can be viewed at: http://blm.gov/california/wmrnp
---
The BLM manages more than 245 million acres of public land located primarily in 12 western states, including Alaska, on behalf of the American people. The BLM also administers 700 million acres of sub-surface mineral estate throughout the nation. Our mission is to sustain the health, diversity, and productivity of America's public lands for the use and enjoyment of present and future generations.
Organization
Bureau of Land Management, California
Office
California Desert District Office
Contacts
Related Content