BLM announces artist in residence opportunity at King Range National Conservation Area
BLM Office:
Northern California District Office
Region:
California
Northern California DO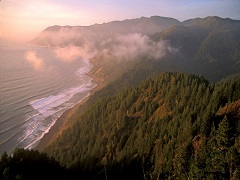 WHITETHORN, Calif. – Applications are now being accepted until Friday, March 6, from artists interested in becoming an artist in residence at the King Range National Conservation Area on California's Lost Coast. The AIR program is sponsored by the Bureau of Land Management and the Shelter Cove Arts and Recreation Foundation. Detailed information on the program and an application are available at www.sheltercoveartsrecreation.com.
The selected artist will receive housing and a small stipend to cover living expenses in the King Range.  Over the course of a month, the artist will be required to complete at least one work of art for exhibit, and lead at least two community workshops, presentations or classes. The residency runs from April 13 through May 17.
Surrounded by forested mountains and overlooking the Pacific, the artist in residence will have uninterrupted time and space to create works of art inspired by nature.
"This program is founded on the belief that artists look closely at the world, noticing things that others might miss as they interpret the natural world through art," said Molly Brown, manager of the BLM's Arcata Field Office.  "Community members appreciate this program, and I know our selected artist will enjoy meeting and working with them."
The application deadline is Friday, March 6.  Project proposals, resumes and digital images of artwork should be submitted to the Bureau of Land Management King Range Project Office, 768 Shelter Cove Road, Whitethorn, CA 95589, or by email to Sandy Miles, BLM outdoor recreation planner, at smiles@blm.gov.  
The King Range National Conservation Area includes 68,000 acres stretching about 35 miles along the California Coast west of Garberville.  It is often described as a spectacular meeting of land and sea, where the high point, King Peak, rises to more than 4,000 feet just three miles from the ocean.  Designated in 1970, it was the nation's first NCA, and celebrates its 50th anniversary this year.
 
---
The BLM manages more than 245 million acres of public land located primarily in 12 western states, including Alaska, on behalf of the American people. The BLM also administers 700 million acres of sub-surface mineral estate throughout the nation. Our mission is to sustain the health, diversity, and productivity of America's public lands for the use and enjoyment of present and future generations.