BLM accepting comments on Bynum Reservoir Recreation Area conveyance to Montana FWP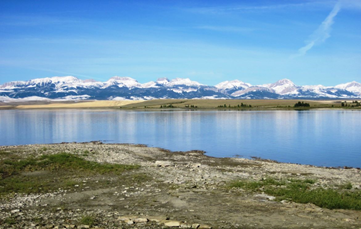 (BYNUM, Mont.) – The Bureau of Land Management is accepting comments on a proposal to transfer 80 acres of BLM land to Montana Fish, Wildlife and Parks (MT FWP) under the Recreation and Public Purposes Act.
The Bynum Reservoir Recreation Area is located about five miles west of Bynum, Montana, and includes four primitive campsites, a concrete boat ramp, and a vault toilet. Continued opportunities for fishing and camping along the shores of Bynum Reservoir would be guaranteed and enhanced with the transfer.
For over two decades, MT FWP has maintained a fishing and recreation access site on Bynum Reservoir. Since Bynum Recreation Area does not currently belong to MT FWP, they have submitted a request for conveyance of 80 acres through the Recreation and Public Purposes Act. This Act allows state or local governments to request a conveyance of a parcel of land to be used for recreation or public purposes. The 80 acres include a 40-acre parcel that contains the improvements, as well as a 40-acre parcel on the northern edge of Bynum Reservoir used by the recreating public as a dispersed camping site. Much of the 80 acres is covered by water during most of the year. 
If conveyed, the state would not be able to sell the land or change its current recreational use, otherwise, the land will return to BLM ownership.
Interested parties may submit written comments about the application and classification on or before Sept. 13, 2018, to the BLM Lewistown Field Office, Attention:  Bynum Reservoir R&PP Project, 920 NE Main St., Lewistown, MT  59457.
To read the Bynum Reservoir Project Environmental Assessment, go to: https://go.usa.gov/xUAsY
The BLM manages more than 245 million acres of public land located primarily in 12 Western states, including Alaska. The BLM also administers 700 million acres of sub-surface mineral estate throughout the nation. The agency's mission is to sustain the health, diversity, and productivity of America's public lands for the use and enjoyment of present and future generations. Diverse activities authorized on these lands generated $111 billion in economic output across the country in fiscal year 2019—more than any other agency in the Department of the Interior. These activities supported more than 498,000 jobs.
Organization
Bureau of Land Management
Contacts