Colorado Dominguez-Escalante National Conservation Area Travel Map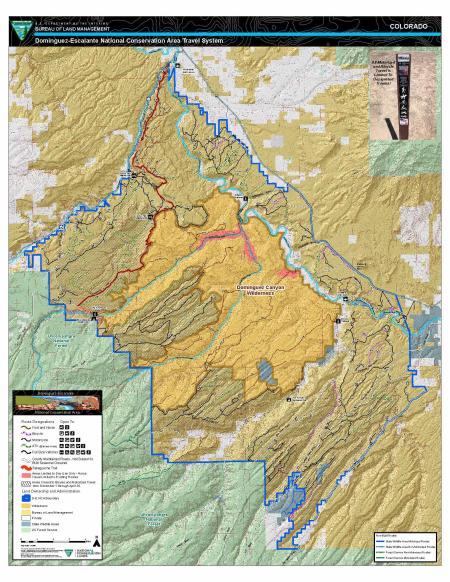 Overview
The Dominguez-Escalante National Conservation Area (D-E NCA) is part of the BLM's National Conservation Lands and is an administrative unit within the BLM's Southwest District. It is located in western Colorado (Figure 1.1). The southwest boundary of the NCA planning area borders the Uncompahgre National Forest. The northwest boundary runs along Colorado Highway 141 and includes approximately 10 miles of the Tabeguache-Unaweep Scenic and Historic Byway. The northeastern boundary is defined by U.S. Highway 50 and adjacent private lands, while the southeastern boundary is defined by Delta-Nucla (25 Mesa) Road, which runs south to the national forest boundary. Elevations within the NCA range from approximately 4,700 feet to over 8,200 feet above sea level, resulting in great biological, geological, and topographical diversity.
Recreation
The D-E NCA provides a range of travel opportunities, from trails managed for foot and horseback, bicycle, motorcycle or ATV, up to routes for full sized vehicles. These routes provide access to lands throughout the NCA. Travel within the Dominguez Canyon Wilderness is limited to foot and horseback. The NCA has several recreation management areas, each with an emphasis on different types of recreational experiences. The Cactus Park Special Recreation Management Area (SRMA) is managed to provide opportunities for motorized travel with an emphasis on ATV trails. The Ninemile Hill Extensive Recreation Management Area (ERMA) has an emphasis on quiet use, travel is predominantly limited to foot and horse. The Hunting Grounds ERMA is managed for a mixture of motorized and mechanized travel, and The Escalante Triangle within the Sawmill Mesa/ Wagon Park ERMA has an emphasis on bicycle use. There are several Developed campgrounds within the NCA as well as opportunities for dispersed camping.
The travel map shows the network of designated routes in the D-E NCA and the type of use for each route. All motorized and bicycle travel is limited to designated routes. Routes displayed in this map can be viewed in Google Earth by downloading the kmz file. If routes outside of D-E NCA are needed; links to the web service, kmz and geodatabase files are available on BLM Navigator.
Files
Publication Date
Wed, 05/24/2017
Organization
Collection: Public Room
Category: Map