Homesteads and Historical Sites on BLM land in Oregon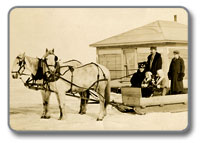 The Homestead Act of 1862 brought about significant and lasting changes to the United States. Giving individuals from the United States and around the world the opportunity to claim free government land allowed nearly any man or woman a chance to live the American Dream. During the homesteading era over 1.6 million people stepped-up to the challenge to claim and settle more than 270 million acres of public land.
This May, the Homestead Act will celebrate its 150th birthday. The BLM Oregon/Washington invites you to learn more about our historic lands and the BLM's role in preserving them will be at the forefront of our Commemoration of the Homestead Act. Below is a list of these historic lands in Oregon.
Birch Creek Historic Ranch, Vale
http://www.blm.gov/or/resources/heritage/culbirchcreek.php
Cape Blanco Lighthouse, Port Orford
http://www.blm.gov/or/resources/heritage/culcapeblanco.php
China Ditch Site, Roseburg
http://www.blm.gov/or/districts/roseburg/recreation/chinaditch/history.php
[Martha and Croesus] Comstock Homestead, Roseburg
Comstock Day Use Area: http://www.blm.gov/or/districts/roseburg/north_bank.php
David L. Shirk Ranch (National Register 11/4/2009), Adel
http://en.wikipedia.org/wiki/David_L._Shirk_Ranch
Gerber Block/Gerber Ranch, Klamath Falls
http://www.blm.gov/or/resources/recreation/site_info.php?siteid=88
Historic Oregon Trail - settlers who traveled west, Baker City
http://www.blm.gov/or/oregontrail/index.php
Historic Yaquina Head Lighthouse, Newport
http://www.blm.gov/or/resources/recreation/yaquina/lighthouse.php
Rand National Historic Site, Grants Pass
http://www.blm.gov/or/resources/heritage/culrand.php
Riddle Ranch Historic District (National Register 5/23/1991), Burns
http://www.blm.gov/or/resources/heritage/culriddlebros.php
Rogue River Ranch, Medford
http://www.blm.gov/or/resources/recreation/rogue/ranch.php
Whiskey Creek Cabin, Medford
http://www.blm.gov/or/resources/recreation/rogue/whiskey-creek.php